Nicole Barrett
Assistant Professor of Teaching, Director, International Justice and Human Rights Clinic
B.A. (Stanford), M.I.A. (Columbia), J.D. (Columbia)
Profile
Profile
Nicole Barrett is Director of the 
International Justice and Human Rights (IJHR) Clinic
at Allard Law, where she teaches international human rights, international criminal law international humanitarian law as well as a seminar on human trafficking law and policy. Professor Barrett and the IJHR Clinic work with international courts, tribunals and organizations, national governments and a wide range of non-governmental organizations. Her research interests include corruption, human rights, international criminal law, and human trafficking, on which she has widely published, presented and testified.
From 2015 - 2019, Professor Barrett
 was also Executive Director of the 
Allard Prize for International Integrity
and related initiatives.  During this time, she oversaw development of the biennial 
Allard Prize and biannual Allard Prize
photography competition and launched a vibrant anti-corruption and human rights hub at Allard Law, which held over 45 public events, including presentations, public discussions and debates, book launches, and film screenings with human rights leaders from around the world.
Professor Barrett began 
practicing law at Sullivan & Cromwell in New York City, where she specialized in complex white-collar criminal litigation and was a member of the Human Rights Committee of the New York City Bar Association. In 2004, she served as Legal Officer and then Trial Lawyer for the International Criminal Tribunal for the former Yugoslavia in The Hague (Office of the Prosecutor).  In 2008, she worked as an international humanitarian law advisor for the defense of Guantánamo detainees and monitored military commissions in Guantánamo Bay, Cuba. In 2012, Professor Barrett was a Senior Scholar in Residence at New York University Law School, where she directed legal projects with international criminal courts and tribunals.
Professor Barrett has a Masters of International Affairs and a Juris Doctorate from Columbia Law School, where she was a Harlan Fiske Stone Scholar and Articles Editor of the 
Columbia Human Rights Law Review
. From 2001-2003, she served as a federal law clerk, first in New York City for the Honorable Gerard E. Lynch on the Southern District of New York United States (now US Court of Appeals for the Second Circuit) and then in San Francisco for the Honorable John T. Noonan on the United States Court of Appeals for the Ninth Circuit.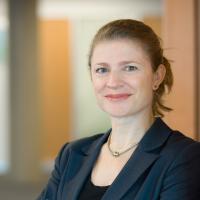 Organization Affiliations
Centre for Feminist Legal Studies
Research Interests
Criminal law and criminal justice
Human rights
International law
---
What is exploitation and is its definition universal?

–
---