Kaitlyn Cumming
PhD Student
JD (University of Alberta), LLM (University of British Columbia), PhD Candidate (University of British Columbia)
Profile
Kaitlyn Cumming is a doctoral student at the Peter A. Allard School of Law investigating civil access to justice in British Columbia courts and tribunals. Her research engages the question of what an equitable approach to access to justice looks like in the context of social and institutional realities that often create wide disparities in bargaining power between parties in a legal dispute. Kaitlyn seeks to answer this question by taking a contextual, interdisciplinary and mixed methodology approach.
Beyond her doctoral research, Kaitlyn is a part-time practising lawyer in British Columbia focusing on civil litigation, everyday legal problems, and innovative approaches to service delivery. Through her practice, she recently began supporting Access Pro Bono's innovative new Everyone Legal Clinic, which aims to fill unmet legal needs by training articling students to provide affordable legal services through a collaborative and virtual legal clinic model.
Supervisor: Margot Young
Professional Affiliations
Member, Law Society of British Columbia
Publications
Presentations
"The Civil Resolution Tribunal: Mission Creep, Technology & Administrative Law." Paper presented at the International Society of Public Law (ICON*S) Mundo Conference (Virtual, July 2021).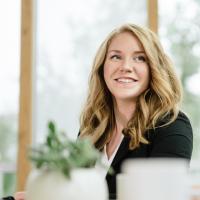 Research Interests
Courts, litigation and access to justice
Law and social justice
Law and society
Legal methodology and interdisciplinary approaches
---