Claire Young
Professor Emerita
LL.B. London School of Economics 1970; LL.M. UBC 1982
Profile
Prior to joining the Allard School of Law in 1992, Claire Young practiced law with the Alberta Attorney-General's department for several years and taught law at the University of Western Ontario from 1984-1992.She is the co-author of two books and the author of numerous articles on tax law and policy. Her other research interests include feminist legal theory and sexuality and the law. She was awarded the University of British Columbia Killam prize for excellence in teaching in 1998 and 2002. In 1999 she held the Dunhill Madden Butler Visiting Chair in Women and the Law at the University of Sydney, Australia. She has consulted with the Department of Finance and several international organizations on tax policy issues and is currently a a member of the Joint Commonwealth Secretariat and the International Development Research Centre (IRDC) research team (based in London, U.K.) working on The Gender Responsive Budget Project.
In 2003 Professor Young was awarded the Therese Casgrain Fellowship in recognition of her research on women and economic issues.
Personal Web Page: http://faculty.law.ubc.ca/young/index.htm
Courses
Taxation Law

Tax Policy

Taxation of Trusts and Estates

Perspectives on Sexuality and Law
Publications
" Tax Policy, Theoretical Explorations, and Social Realities ", Canadian Tax Journal (2003) 51 No.5"
"From Same-Sex to No Sex: Trends Towards Recognition of (Same-Sex) Relationships in Canada" , Seattle Journal for Social Justice 3 (2003) 757-793 (with S. Boyd).
"Who Influences Family Law Reform? Discourses on Motherhood and Fatherhood in Legislative Debates in Canada" , Studies in Law, Politics and Society 26 (2002) 43-75 (with S. Boyd).
"What's Sex Got To Do With It? Tax and the Family" , Law Commission of Canada , (Ottawa: 2000), 196 pages (translated into French).
"Women, Tax and Social Programs: The Gendered Impact of Funding Social Programs Through the Tax System" ( Status of Women, Canada , Ottawa: 2000), 161 pages (translated into French).
Publications listed on the Law Library Faculty Research Publications Database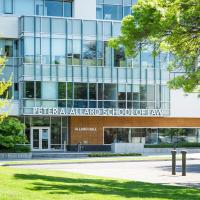 Research Interests
Feminist legal studies
Tax law and policy
---