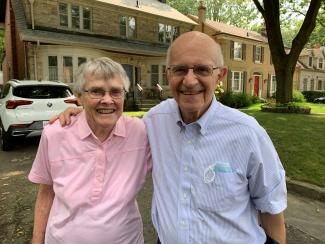 The Allard School of Law is delighted to announce a generous gift from Frank Iacobucci KC LLD CC (LLB '62) and Nancy Iacobucci to establish the Frank and Nancy Iacobucci Entrance Award in Law for Indigenous Students. This award will support First Nations, Inuit or Métis students with financial need who are entering the JD program.
The Honourable Frank Iacobucci graduated with a Bachelor of Laws from UBC in 1962, and went on to obtain his Master of Laws and a Diploma in International Law from the University of Cambridge. He worked in private practice in New York, then pursued an academic career which included serving as Dean of the Faculty of Law at the University of Toronto as well as University Vice-President and Provost. He was later appointed Chief Justice of the Federal Court in 1988 and Justice of the Supreme Court of Canada in 1991.
Frank has received numerous recognitions in Canada, the United States, the United Kingdom and Italy, including a Companion of the Order of Canada, a King's Counsel designation, and honorary fellowship of St. John's College at Cambridge University. In 2005, Frank was recognized by his peers with a Lifetime Achievement Award from the Alumni Association of the law school at UBC. Since retiring, he has been very active in issues of public law, particularly matters involving Indigenous peoples of Canada.
Nancy Iacobucci, Frank's lifelong partner, is a graduate of Harvard Law School, where she graduated magna cum laude and was an editor of the Harvard Law Review. She and Frank met at Cambridge and were married in 1964.
In making their $100,000 gift, Frank and Nancy aim to encourage Indigenous students to pursue a legal education. "Having become more aware of the history and current challenges facing Indigenous peoples, Nancy and I wished to contribute to encouraging young Indigenous individuals to pursue legal studies so they can play an important role in improving the relationship of Canada and Indigenous peoples," Frank says. Awards totaling $15,000 will be available annually, with the first to be distributed to incoming students in the 2023-24 academic year.
Remarking on the impact of this new award, Associate Director of Indigenous Legal Studies Lee Schmidt says, "This new financial need-based award for Indigenous law students is a fantastic addition to the Indigenous Legal Studies Entrance Awards. For many, financial barriers make law studies an insurmountable hurdle. Larger entrance awards such as this new generous Iacobucci family award are very welcome so that students can concentrate on their legal studies, rather than worrying about how they can fund their first year. We greatly appreciate the generosity of the Iacobucci family in setting up this award!"
"We are deeply grateful to Frank and Nancy for their generosity in establishing the Frank and Nancy Iacobucci Entrance Award in Law for Indigenous Students," says Dean Ngai Pindell. "This gift builds on Frank's long history of contribution to the law school and to UBC, not only through gifts in support of student financial aid, but through volunteerism, like his membership on the Dean's Advisory Council and his support of our alumni engagement and student recruitment work in Toronto. Frank is an extraordinary alum who serves as an inspiration to our community, and we're very pleased he and Nancy have chosen to continue their support of students in this significant new way."
---