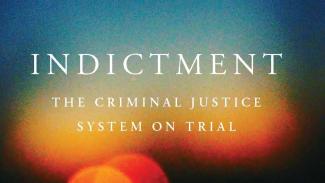 Canada's current criminal justice system isn't working for anyone, says Allard Law professor Benjamin Perrin. Both victims of serious crimes and people who have committed offences agree on that.
The search for a new approach to criminal justice is the driving force behind Indictment: The Podcast, launched today by Perrin. In each episode, he invites listeners to hear from guests who have first-hand experience with the criminal justice system – including victims of crime and people who have been incarcerated.
The podcast is the prelude to Perrin's forthcoming book, Indictment: The Criminal Justice System on Trial, which takes a closer look at why tough-on-crime approaches have failed, and brings forward innovative ideas from around the world that Perrin says could help create a new and better criminal justice system. Indictment was chosen as one of Indigo's "most anticipated books" of fall 2023. 
We spoke with Perrin about some of the ways our criminal justice system could be overhauled and the impact he hopes his project will have on the lives of Canadians.



What inspired you to take on this topic?
One day in 2018, I received a handwritten letter from an Indigenous man who was incarcerated. It was 8 or 9 pages long. At that point, I'd been part of the Harper government's tough-on-crime approach and helped write the Victims Bill of Rights Act. I hadn't shown any concern for what life was like behind bars.
And yet this man wrote me from his cell, just sharing what his experience in prison was like. What he was saying was deeply disturbing and very human. One specific line has stayed with me: "If you want to turn a man into an animal, put him in a cage, without resources to build him back up."
Around that time, Jody Wilson Raybould, Canada's first Indigenous Justice Minister, put forward a call for public consultation, asking 'If we could design a new criminal justice system from scratch, what would it look like?' I asked my students that same question and we started brainstorming. After that, I couldn't get that out of my head – we could do things differently.
Redesigning the justice system is a tall order. How did you get started with this project?
One of our first steps was to reach out to every victim- and offender-based organization across Canada. We asked one question: What was your experience like with the criminal justice system?
Within a day, we started getting calls and got absolutely flooded. We heard from everyone – from someone who'd keyed a car to people who had been convicted of murder. People wanted to tell their stories and hearing what they had to say was completely life-changing for me.
Your book outlines different approaches that have been getting results in communities around the world. What's one example you'd like to see imported into Canada?
One big issue is that police are not equipped to deal with someone who is experiencing a mental health crisis. If the police show up heavily armed and say 'get down on the ground,' a typically developed person will likely get on the ground immediately. But this only works for people who don't aren't in mental health distress, have unresolved trauma and who aren't using substances at the time.
Professionally trained, well-resourced non-police crisis support is something that's been tested and has been working successfully for over 30 years. In Indictment, we profile a mobile crisis response team based in Oregon called Crisis Assistance Helping Out in the Streets – CAHOOTS. Their mental health and harm reduction workers take between 15 and 20 per cent of all 9-1-1 and non-police emergency calls – at a fraction of the cost. So instead of having the police showing up with weapons, they have someone who doesn't carry a firearm and who looks like a member of the community.
I personally don't think police officers actually want to show up to meet someone who is having a mental health crisis when the only tools they have are tasers, handcuffs and firearms. And the research shows it works better to have someone who can meet them where they're at.
What about in Canada? Did you come across examples of initiatives here that are working well?
It's very, very clear that Indigenous-led peacekeeping teams are more effective than police.
They have higher rates of community trust and reduced crime rates in First Nations communities that have their own peacemakers, instead of RCMP.
Likewise, Indigenous-led corrections and Indigenous-led healing lodges are very effective, but they're all underfunded. So the system does these token things, which can be effective, but they're not enough.
You also spoke with victims of crime as part of your research. What are their thoughts on overhauling the current system?
Victims are even more dissatisfied with the system than people who have committed offences. Right now, only a third of crime gets reported to police. People who are victims of crime, who supposedly the system is there to protect, have given up.
For those who do go through the system, it's not working. I've had many victims tell me 'I want to be involved. This was not a crime against the state. It was a crime against me. I want to look at them in the eyes and hear an apology.' But in reality, people who have committed offences can't really speak, because it incriminates them.
One example from my book is the Collaborative Justice Program in Ottawa, which has been found to have higher levels of satisfaction for survivors and people who have committed offences and lower levels of repeat offences, in comparison with the traditional justice system. Again, at a fraction of the price.
In Indictment, I also discuss a federal government report commissioned by Public Safety Canada that looked at dozens and dozens of studies on whether prison works to reduce crime, and they concluded that it does not. They found that excessive use of incarceration comes at an enormous cost, not just fiscally, but also socially. The research shows that for many offences, you're actually more likely to re-offend if you're sent to a prison than if alternative measures are used.
Your podcast launches today. What does it add to the conversation?
I love listening to podcasts and wanted people to be able to hear for themselves the same powerful stories I heard in my research interviews. Throughout the podcast, you'll get to hear stories of people's real experiences with the criminal justice system for yourself. It's a behind-the-scenes of the book that's raw and unfiltered – a look inside the system like few have ever seen.
In the first few episodes, you'll hear from a man who was imprisoned after missing a court date and ended up traumatized and homeless, and from an Indigenous survivor of violence who has an incredible story of survival and resilience in the face of failures by multiple systems that were supposed to help. You'll also hear from a former "tough on crime" politician who completely changes his views and from a senior corrections officer who blows the whistle on an ineffective system that isn't working for anyone.
I hope the Indictment podcast will get people talking about the challenges with the system and, more importantly, new and better ways we can address harm in our society. The criminal justice debate is incredibly polarized right now and desperately needs fresh ideas.
Indictment: 

The Criminal Justice System on Trial
Tune into the Indictment: The Criminal Justice System on Trial podcast on all major podcasting platforms or by listening here.
Indictment: The Criminal Justice System on Trial (University of Toronto Press) comes out on October 3, 2023, and is now available for pre-order. 
Join Benjamin Perrin, author of Indictment: The Criminal Justice System on Trial, in Vancouver, Calgary, Edmonton, Saskatoon, Winnipeg, Toronto, Ottawa and Montreal, or attend a virtual national event.
Financial support for this project was provided by the Law Foundation of British Columbia.
---