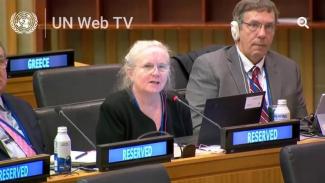 Tracing assets has become highly challenging in the digital age, when fraudsters can transfer assets to multiple jurisdictions at the push of a computer key. While countries have different asset tracing and recovery measures, they are often not recognized across borders.
On April 18, Canada's delegation to the United Nations Commission on International Trade Law (UNCITRAL) delivered a paper authored by Dr. Janis Sarra on cross-border asset tracing and recovery at the United Nations.
Dr. Sarra is the expert member of the Canadian delegation, a professor at the Peter A. Allard School of Law and principal co-investigator at the Canada Climate Law Initiative
The paper, titled "Contribution of the delegation of Canada on Asset Tracing and Recovery – Considerations for Further Work," urges the development of a new toolkit to recognize common principles, objectives, features and safeguards for foreign courts to recognize foreign orders to obtain information and temporarily freeze or recover assets.
Following lively debate over the paper on the floor of the United Nations, country delegations unanimously supported the paper, which will now set the agenda of the UNCITRAL Working Group countries over the next year.
Dr. Janis Sarra researches and teaches in the areas of corporate finance, climate-related financial risk and corporate governance, banking law, securities law, contracts, commercial insolvency law and law and economics. You can access a selection of Dr. Sarra's recent research on the Allard Research Commons.
---