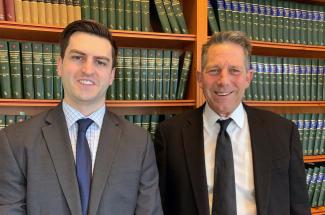 In 1995, Gerald Klassen was convicted of murdering 21-year-old Julie McLeod — but he has always maintained his innocence. On April 2, in a long-awaited decision, Federal Justice Minister David Lametti ordered a new trial, after concluding that Klassen's conviction had likely been a miscarriage of justice.
This case is the second major victory for the UBC Innocence Project, which has been working on the file for years. Thanks to the efforts of the Project's pro bono supervising counsel, Ian Donaldson, QC, and Curtis Armitage, Klassen has been out on bail since December 2020, after spending almost 26 years in prison. He had initially been denied full parole, specifically because he had consistently asserted his innocence.  
Tamara Levy, QC, director of the UBC Innocence Project, explains what this decision means for Klassen and how his case highlights problems with the legal system.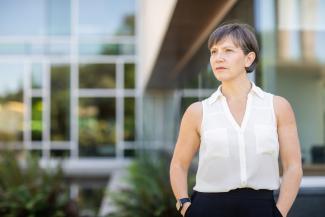 Why did the UBC Innocence Project take on Mr. Klassen's file? What was it about this case that made you believe he might be innocent?
Initially we didn't think there was strong enough new evidence to pursue his claim. The lawyer who first approached us about the case had already applied for review and was rejected by the Minister. But she also had a pathologist do a deep dive into the file. The pathologist came back to us with a strong expert opinion that seriously undermined the expert opinion evidence at Klassen's trial. His opinion supported the view that the death was accidental. We reopened the file after reading his report.
Mr. Klassen had also maintained his innocence for a long time, and this can also be something that factors into our decision. There's a lot of pressure in jail to admit to your crimes, so that people can cascade down the levels of security and start getting escorted absences from the prison. These are the first steps towards parole. Prison officials do not look highly upon people who maintain their innocence. You don't get any favors and it makes it very, very difficult in prison. If somebody's been maintaining their innocence to their own detriment for a lengthy period of time, it makes you want to do a little bit more digging.
Tell us about the role the UBC Innocence Project played in getting Mr. Klassen to this point.
Over the time we've had the file, we had eight or nine students involved. They did all of the initial research and review. Until we had the pathologist's full report, we were going in several different directions, looking into other forensic evidence at trial and at possible witnesses who testified or didn't testify.
In 2017, Ian Donaldson, QC and Curtis Armitage took on the file as supervising lawyers. Ian has a wealth of experience in criminal law, and with Curtis's help was successful in a bail application. Their work was entirely pro bono. We really have to thank them.
What will Crown counsel consider when deciding if it will retry Mr. Klassen?
They will look at a few factors. Is there a substantial likelihood of conviction? Can they viably prosecute, in terms of finding witnesses? Is his prosecution still in the public interest, given that he's already spent 26 years in jail? He's already served time as if he were guilty of first-degree murder. 
The BC Crown and the Criminal Conviction Review Group in Ottawa have already hired their own forensic experts who agreed that the victim's death could have been accidental. The Crown also conceded that he could be released on bail and that his application was not frivolous, which indicated that it recognized there were problems with the evidence. I don't know how it would be in the public interest to prosecute under these circumstances, but it is the crown's discretion.
What happens if they decide against a retrial?
The case would likely still be called into court, and Mr. Klassen would plead not guilty. The Crown would then explain the history and would present no evidence. Defence counsel might say a few words on Mr. Klassen's behalf and Mr. Klassen would be given the opportunity to speak. The judge would find him not guilty, and the case would end with his acquittal.  
Is it likely there would be any recourse for him? Would he receive an apology or be eligible for compensation?
He could ask for an apology, but it's very rare that happens, unless the crown sees fit to do so at the court proceeding. In terms of compensation, he would likely have to try to sue, but the current guidelines make it very difficult to get compensation in cases like this. Usually there has to be someone else to blame, and when it comes to expert opinion evidence, it's hard to lay blame, because it's an opinion.
In my view this demonstrates an unfortunate gap in our current system. In many, many cases of wrongful conviction, there's never going to be anyone to blame, but that doesn't mean the exoneree is not entitled to compensation. The state mistakenly took away his liberty, and he should absolutely be entitled to compensation for the 26 years that he spent in prison. We need to be moving to a no-fault compensation system for cases of wrongful conviction.
What was it like for you and the team to get this news after working on this case for so many years?
It's been amazing. I was grateful to be able to email all the students who worked on the case, and they were all so excited and proud to have been a small part of it.
The lawyers who worked on the case are happy, but there is bitterness  —  bitterness that we have a system that could let this happen. It's unfortunate, but it just reinforces the fact that we need to be doing work like this and need to keep reviewing and investigating convictions where people maintain their innocence.
---