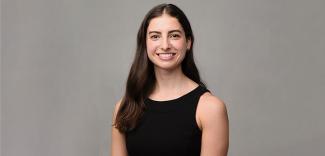 Graduating law student Leila Nasr has been recognized with the Royal Society of Canada's inaugural Justice Rosalie Silberman Abella Award.
The new award was established in honour of Justice Rosalie Silberman Abella, a changemaker celebrated for her visionary intellectual contributions and commitment to building equality and equity across Canadian society and beyond. Each year, the award will be presented to a graduating student at each law school in Canada.
Leila Nasr began her career in Palestine's humanitarian sector, where she managed a training program for young adults on how to document human rights violations by soldiers. Since completing a master's degree in human rights at the London School of Economics and Political Science, Leila has been an advocate for domestic civil liberties, focusing on Canada's religious minorities and racialized communities. 
During her time at law school, Leila worked at the British Columbia Civil Liberties Association and at the Immigration and Refugee Legal Clinic in Vancouver. After graduating this spring, she will be clerking at the BC Court of Appeal (2022-23), followed by a clerkship with the Supreme Court of Canada (2023-24).
We spoke with Leila about this recognition from the Royal Society of Canada and her time at Allard Law.
What does receiving this award mean to you?
Justice Abella was a trailblazer. She was my age when she became the youngest person in Canadian history to be appointed a judge. She was also the first Jewish woman and refugee to sit on the Supreme Court. Importantly, Justice Abella was known for her staunch commitment to upholding the rights of Canada's most vulnerable people - particularly women, children and immigrants like myself. Receiving this award is an immense honor and inspires me to use my career to further develop her contributions to substantive equality in Canada and beyond.
Why did you decide to go to law school?
I actually spent a lot of time vowing to never study law. My early career experience in Palestine's humanitarian sector left me completely disillusioned with the role of law in people's lives. Why did it always seem to mean so little to those who most needed its protections?
Later, though, I began working with civil liberties groups in Canada and had a front-row seat to the incredible work pro bono lawyers were doing to advance the rights of racial and religious minorities across the country. I decided I wanted to be part of that effort to make law and human rights meaningful to marginalised folks — so off to law school I went!
What was your favourite law class?
It's hard to pick just one, but the Appellate Advocacy seminar run by the folks at Legal Aid BC has been a huge highlight. The seminar gives students the chance to work on real immigration and criminal law appeals, and to therefore contribute to the critical — and perpetually under-resourced — work being done by stellar Legal Aid lawyers.
The cases we did were complex, but the regular feedback I received on my written and oral submissions throughout the term was invaluable. While I have a lot to learn, I'm a clearer and more persuasive and confident advocate because of this course.
Looking back on your time at Allard Law, what advice would you give to incoming students who are starting law school in the fall? 
Don't self-select out of anything. I was the literal queen of this prior to law school. In fact, I nearly didn't apply to law school (or clerkships, or even this award!) because I was so terrified of failure — of being told I wasn't good enough in some way. So my advice is pretty simple: apply for the job that feels out of reach; put your name in for the student rep position you're so passionate about; go for that scholarship opportunity even though you know 100 other people will apply. The only guaranteed pathway to failure is to never actually set foot on the track. 
---