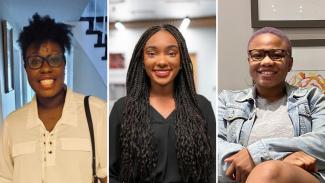 Recognizing the urgent need for more Black lawyers and judges in the legal profession, the Honourable Judge David St. Pierre, the Honourable Selwyn Romilly, Vancouver lawyer Matthew Nathanson, and two anonymous donors established Allard Law's first-ever award to support incoming Black JD students in June 2021.
We spoke with the recipients of the inaugural award — Ateshia Irabor, Nonye Ngwaba and Stephanie Okeke — about their first year of law school, their career aspirations and the award's impact.
Ateshia Irabor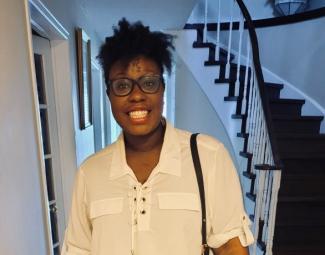 What did receiving this award mean to you?
Ateshia: Considering a lot of the systemic factors affecting Black people, it meant a lot that there was an award that recognized Black students. Law school is expensive, and that can disincentivize people from going into the legal field. This award can encourage people who are Black to pursue a legal career, if that's something they're interested in.
On a more personal level, I don't even know how to describe what I felt! When I got the email, I just took such a deep breath. It really helped just knowing that first-year tuition was taken care of.
As a recipient of this award, you had the opportunity to meet with two judges who were among the award's donors, the Hon. David St. Pierre and the Hon. Selwyn Romilly. What was it like getting to know them?
Ateshia: It was so nice getting to talk to them and thank them for contributing to the award!
It was also nice to meet them to just see that they were normal people. That made me feel much better about looking ahead to my future. Judges, lawyers… they're not these inaccessible people —  they're everyday people just like us, and that made my goals feel a lot more reasonable and possible.
Tell us about your mentor during your first year of law school.
Ateshia: One of the things that Allard does is connect you with different mentorship programs. I was connected with Robert Hanson, a lawyer who works at Norton Rose Fulbright. As my mentor, he very much brought the legal world down to earth. It was another reminder that the legal field is not out of reach. It's for everyday people!
I think mentorship is really important because you get to see what it's like working in a specific area and whether or not that's what you want to do. Unlike with other fields, you can't really volunteer at a law firm. Getting specific details about how the everyday will look allows you to see if that's something that you would enjoy.
Nonye Ngwaba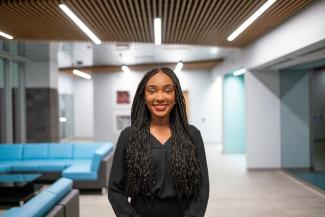 What did receiving this award mean to you?
Nonye: Receiving the award of course came with an immense sense of relief, in knowing the financial burden of my first year had been entirely alleviated.
There was also an immediate sense of enthusiasm in my pursuit of my law degree. It's an indescribable feeling to know Honorable Judges in such esteemed positions believe in this cohort and are prioritizing the success of the next generation of Black legal professionals. This scholarship for me is a relief, it's a burden lifted and it's affirmation that I can do this.
What did you enjoy most about your first year of law school?
Nonye: The first year of law school was undoubtedly challenging, but building community with my peers, particularly my Black peers, was the most enjoyable part and provided necessary support in my first year. From collaborating with the Black Law Students' Association (BLSA) members on the Black Pre-Law Conference to meeting for socials, I felt so honored to be among a group of incredibly intelligent, highly confident, unwaveringly determined future Black lawyers. In the short time we have all known each other, I have found support, friendship and empowerment in my peers.
Do you have any advice for prospective Black law students who are thinking about law school?
Nonye: My advice to prospective Black law students would be to consider yourself always. It's fairly easy to be immersed in grand ambitions to change the world and the legal landscape, and while I cannot overstate how important it is to be a catalyst for change, it is also important to remember that personal interest, genuine passion, and your wellbeing should be of focus.
I would also add that with being a law student, particularly a Black law student, comes an insurmountable amount of pressure to excel, but on the other side of that is also immense reward for success. Consider your support system, ensure you have people to lean on in times where you are doubting your abilities and who will celebrate with you when you triumph over your biggest challenges.
It may seem daunting at first, entering a profession in which it seems lawyers who look like you may be scarce. I assure you though, there is an incredibly supportive network of Black legal professionals rooting for you and championing your success.
Stephanie Okeke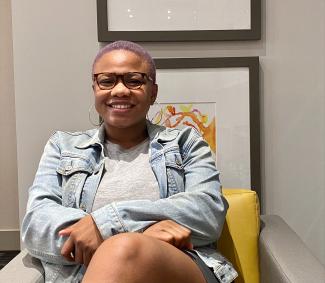 What inspired you to go to law school?
Stephanie: I wanted to go to law school to make a positive change. I'm from Nigeria, and Nigeria has not always been the best in terms of justice and upholding the law. At first I thought the way to make a positive change would be to go into politics, but growing up I didn't have any politicians who I looked up to. But I did know lawyers who had gone on a different path and were able to make a change. So I decided on law.
Right now I'm undecided about exactly what I will be doing after I graduate, but my end goal is to make a difference.
What was your favorite class in your first year?
Stephanie: Contract law was one of the classes I was initially most afraid of, but Professor Erez Aloni made it so enjoyable that it ended up being one of my favorite classes. I'm not sure if I would have enjoyed it as much if it wasn't for him. Even when the content wasn't that enjoyable — simply because some of the contracts cases were so old — he had such an engaging teaching style that he made it fun!
He'd ask really interesting questions that went beyond the facts of the case. He also did what's called 'soft calling,' so you would know if he was going to call you that day and could make sure you were well prepared. That made me want to really understand what I was reading.
Do you have any advice for prospective Black Law Students who are thinking about law school?
Stephanie: I would say don't overthink it. Before I applied, I knew I wanted to become a lawyer, but I was terrified that I wouldn't get in. Even having the grades to get in, there was just the self doubt. I was thinking, 'well, my story might not stand out.'
So my advice would be to get rid of that self doubt. Don't count yourself out and just go for it! Apply and let the universe do what it needs to do. You never know what the outcome will be.
---