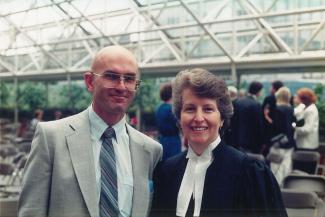 The Allard School of Law is delighted to announce a $1 million gift from the estate of alumni couple Linda and Peter J. Hull. This endowed fund will provide bursaries and program support for future Indigenous law students.
"The Allard Law community was thrilled to hear about this incredible gift from Linda and her late husband, Peter," noted Dean Ngai Pindell. "Linda shared her intention to give an estate gift to the law school at a recent Indigenous Awareness Month event. The look of surprise among faculty, staff and students demonstrated how generous and unexpected this news was for all of us. It truly is a remarkable gift," he added.
"When Peter and I first talked about setting up an endowment in our will for Indigenous law students, it was to encourage more Indigenous students to enroll by helping to offset the financial burden by way of bursaries," shared Linda. "From our experience in the criminal court system, we felt that Indigenous lawyers can better understand and represent Indigenous people before the court."
After marrying in 1964, Linda and Peter worked for two years to save enough money to allow Peter to attend university. He graduated from the UBC Faculty of Law in 1973, following the completion of his BA in 1970.
Linda graduated from the UBC Faculty of Law in 1986 at the age of 41. During her time at law school, she became involved with the UBC Law Review, which she describes as her "place of refuge" during her studies. Following graduation, Linda articled at the firm Ray Connell under the supervision of Walley Lightbody, QC and volunteered at Legal Aid before moving into criminal defence work, which she did for ten years before retiring from practice.
Peter spent most of his law career as a Provincial Crown Prosecutor in Calgary and Victoria before the couple returned to Vancouver, where Peter worked for the Department of Justice as a Federal Prosecutor. He left the Department and started his own practice as a general law practice, including criminal defence, work he continued until his passing.
"Peter worked hard to get new clients and he did anything that crossed his desk," Linda recalled. "For some reason he kept getting files that other lawyers wouldn't touch or gave up on." Linda notes that Peter was successful with those challenging files more often than not and that he worked diligently for all of his clients—and consistently undercharged them. "I will always be proud of Peter in that he often went beyond what a lawyer would normally do," she added.
When asked about the impact she and her late husband Peter hope this gift will have on the future of the legal profession, Linda noted: "It is my sincere hope that Indigenous law students will benefit from this permanent funding which not only provides for bursaries but will support programs and activities at the Allard School of Law, directly impacting the academic success of Indigenous students." 
---