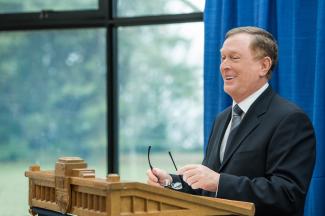 Every year, a new cohort of law students begin their journey at the Peter A. Allard School of Law, where they will cultivate the skills required to carry on the legacy of those who came before them. As they pass through the main floor of the bright and airy Allard Hall, a series of works by Fred Herzog, renowned photographer who captured Vancouver's landscape in the 1950s and 60s, line the wall. Working exclusively with Kodachrome slide film, the tones of the photographs convey a quiet vibrancy that capture powerful vignettes of Vancouver.
These prints and other works of art, including Native American artist Allan Houser's bronze sculpture "Legends Begin," were donated by Peter A. Allard, QC (BA '68 LLB '71), an avid art collector who was as attached to the story of the artist as much as he was to the art. He saw the transformative potential of art and was particularly moved by how Houser, considered one of America's foremost modernist sculptors, overcame adversity to nurture his passion and spread his knowledge. In his admiration for the artist, Mr. Allard said, "It is about doing the right thing for the long term good and following your passions and teaching those that come after you."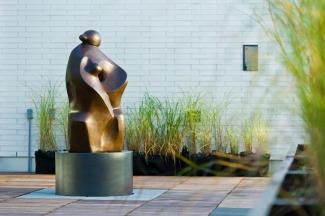 Mr. Allard had this same commitment to the long term good in his philanthropy to UBC. In 2011, the university received an $11.86 million gift from Mr. Allard to support the construction of Allard Hall, to establish the Allard Prize for International Integrity and to create the law school's History Project, an online historical archive to preserve the school's rich history. Then in 2015, he donated $30 million to UBC, the largest ever gift to a Canadian law school. The gift established permanent endowments to support faculty recruitment and retention, student initiatives such as entrance awards, and student experiential learning programs and clinical opportunities. This generosity marked a pivotal moment in the law school's history, and inspired the renaming of the school to the Peter A. Allard School of Law in recognition of Mr. Allard's gift.
With a legacy of generosity, Mr. Allard is remembered as a visionary who possessed a keen legal mind and a passionate commitment to honesty and integrity. Often seen in an Allard School of Law hoodie, he was proud of the law school and a passionate advocate for justice. He believed in the importance of encouraging the next generation to be actively engaged and vigilant to effect positive change in their local and global communities.
Each of us needs to stand up, speak up and take action, to effect positive change wherever we can, however we can, each and every day.
Mr. Allard grew up in Vancouver and attended Queen Elizabeth Elementary School and Lord Byng Secondary School. It's easy to see why he was drawn to the work of Fred Herzog, who captured photos of a time and place that paralleled his youth. Mr. Allard received an undergraduate degree in Arts with a major in History from UBC in 1968 and then applied to the law school at UBC. This decision was inspired by his father, Dr. Charles Allard, who always wanted to be a lawyer and had an insatiable appetite to learn, understand and master everything, as demonstrated by his career not only in medicine as the Chief of Surgery of the Edmonton General Hospital but as a businessman who started seven major companies from scratch. Mr. Allard was accepted to the law school at UBC and used to hitchhike or take the bus from West 10th Avenue and Alma Street to school every day. He graduated from the law school with an LLB degree in 1971. He eventually started his own law firm, Allard and Co., and in 1993, founded the Highbury Foundation.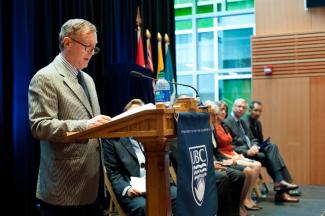 The namesake for the foundation is the Vancouver street where Mr. Allard grew up, Highbury Street, and symbolizes the experiences his mother Effie (Bettie) faced raising him and his siblings as a single mother. She was a constant source of commitment, sacrifice and endurance to her family and friends on Highbury Street in Vancouver and he wanted to honour her legacy as an avid volunteer who instilled in her children the importance of giving back to the community when given the chance. Mr.  Allard credited his mother's indomitable spirit and social conscience for teaching him and his siblings the difference between right and wrong. Another characteristic he shared with his mother was a great love for travel, and he went on many trips around the world with his family and friends. His close relationship with his nieces, nephews, and great-nieces and great-nephews was a wonderful testament to the devotion he had for his family.
My legacy, I hope, is to encourage and inspire those young students who come along to fight for the positive changes that are needed. We must not lose hope, heart or courage.
Inspired by his mother's spirit of generosity, Mr. Allard was an active philanthropist, both through the Highbury Foundation, which has supported educational institutes, universities and countless charities including the Emily Carr University of Art and Design, Vancouver Aquarium, St. Paul's Hospital Foundation, Brentwood College School, several YMCAs, the BC Women's Hospital, the University of Alberta Diabetic Chair, the Pilgrims Hospice Society as well as biomedical and clinical research for cancer, diabetes, Hepatitis B and C and HIV/AIDS. Of his own accord, he personally funded grants and investments for clinical research through several organizations and also assumed leadership roles in human rights and environmental advocacy, including support of the Graeme Hall Wildlife Sanctuary in Barbados.
More recently in 2021, he made a contribution to the Coquitlam YMCA in memory of his mother. The Bettie Allard YMCA in Coquitlam, slated to open in the fall, will be the first time in YMCA Canada's history that a facility will bear the name of one woman. He was particularly pleased that his mother's name would be associated with a centre that would act as a social hub, bringing people together and helping them reach their potential. He had a deep empathy for the challenges faced by single parent families and placed great faith in the YMCA to deliver vital services to the community for current and future generations.
Mr. Allard demonstrated fearless perseverance and deep integrity on behalf of diverse causes, both locally and globally. In 2012, he established the Allard Prize for International Integrity, which is awarded to an individual, movement, or organization that has demonstrated exceptional courage and leadership in combatting corruption and protecting human rights, especially through promoting transparency, accountability and the rule of law. Past recipients include award winner Anna Hazare, one of India's most renowned social reformers, and honourable mention Dr. Sima Samar, an internationally celebrated advocate for human rights in Afghanistan. Mr. Allard had a commitment to advancing international human rights, and his vision for the Allard Prize was to recognize, and tell the stories of, courageous leaders around the world who are fighting injustices and corrupt systems. Through the Allard Prize, Mr. Allard wanted to inspire us all to act with integrity and courage when faced with injustice.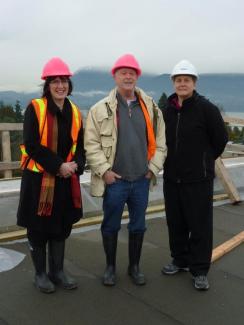 In his speech at the 2015 Allard Prize for International Integrity ceremony he said, "Each of us needs to stand up, speak up and take action, to effect positive change wherever we can, however we can, each and every day."
Every action has a ripple effect, and Mr. Allard's extraordinary contributions to UBC will resonate well into the future. On his motivations for his generosity he said, "My hope is that steadily and over time, the school will engage the world as a beacon for hope and catalyst for positive change. What really matters to me is what future generations do with the gift." Transparency, accountability, and the rule of law were the hallmarks of how Mr. Allard led his life, and it was his goal for all students passing through Allard Hall to honour the memories of those who came before them, those who showed leadership and courage to shape a more just and equitable society.
As another class joins the Peter A. Allard School of Law, they are also taking part in the noble, enduring fight to ensure the world can be made a better place for all. In Mr. Allard's own words: "My legacy, I hope, is to encourage and inspire those young students who come along to fight for the positive changes that are needed. We must not lose hope, heart or courage."
---