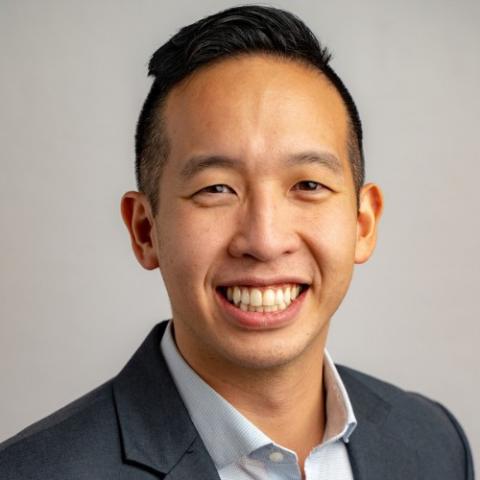 Steven Ngo is a JD alumnus of the Peter A. Allard School of Law. An experienced corporate, commercial, and technology lawyer, Steven has practiced at Osler, Hoskin & Harcourt LLP in their corporate group; at Allens Linklaters in Ho Chi Minh City, with a focus on private equity transactions; and at Visier as senior counsel, advising on commercial agreements, intellectual property, employment law, real estate, and procurement matters.
He is a named lawyer in the Legal 500 Asia Pacific for Corporate and M&A and has been actively involved in diversity committees within the legal profession. Steven is also the current Vice-President (Marketing) of the Federation of Asian Canadian Lawyers (BC) and the founder of FACL's Western chapter. In this interview, Steven provides his insight into the practice of law and his advice to new lawyers.
Centre for Asian Legal Studies (CALS): As we move through the COVID-19 pandemic, we are seeing the world undergo a phase of rapid transition and change—how have you been navigating ongoing changes in your work as a practitioner?
Steven: In terms of changes, I am in my own "in-between" period of life at the moment: I am a new dad to a three-month old daughter and learning to navigate my role as a new parent, and I will be starting a new position at Rivian, a US-based electric vehicle (EV) company as counsel.     
I have always been interested in tech and emerging industries. Unlike working in established industries like oil and gas or public utilities, you are always creating something from scratch and change is rapid. I expect to be dealing with the logistics of importing EVs into Canada and finding ways to tackle climate change through EVs and tech. I am one of the few Canadian lawyers in Vancouver specializing in the EV industry so it's going to be quite exciting; what I have learned so far is to always think ahead and pay attention to rising developments. 
CALS: What motivated you to join the Federation of Asian Canadian Lawyers (FACL) and expand its reach in Canada?
Steven: Although I was born in Canada, I come from an immigrant family. Like many Asian-Canadian law students from immigrant families, I did not have relatives who were lawyers, something that made me feel isolated among many of my peers: when asked whether we had ties to the legal profession during my first day of 1L at Queen's, two-thirds of my class raised their hands.
However, I finally felt a sense of belonging when I attended a conference hosted by the Federation of Asian Canadian Lawyers (FACL) in Ontario. I was blown away by the community of Asian-Canadian lawyers who made it their mission to support diversity and equity initiatives in the profession. FACL supported me throughout law school—when I later transferred to Allard Law in my 2L year, I joined FACL BC and continued to receive mentorship and guidance from the organization.
During my articling year at Osler in Calgary, I founded the chapter of FACL (Western) because I wanted to continue FACL's mission of representing the experiences of Asian-Canadian lawyers. What I often take for granted in Vancouver is how diverse it is—when I was in Calgary, I even faced a lot of resistance to the idea of creating a FACL chapter.
I knew firsthand how difficult it could be to find a "fit" in the legal profession, especially as an Asian- Canadian law student or lawyer. I decided to push forward and met up with a group of friends during my first month of articling who were interested in developing the idea. Two months later, we held our launch event for what is now FACL's Western chapter: we had a sold-out event, with Judge Maryka Omatsu, the founder of FACL, as our keynote speaker! Seeing so many Asian-Canadian practitioners show up to our event highlighted the real need for representation and organizations like FACL within the community.
CALS: Tell us about your time working as a practitioner in Ho Chi Minh City (and in Southeast Asia generally). What kinds of cultural and legal differences did you encounter, if any, and how did you navigate them?
Steven: I have always wanted to work in Asia, as I am of Chinese and Vietnamese descent—working in Vietnam was a fantastic experience that allowed me to learn about my heritage and culture. One of the most interesting takeaways from my time there was my experiences with privilege in the legal profession. In Vietnam, I benefited from "blending in" with the Asian majority, as well as being a fluent English speaker. Because of this, I was often invited to dinners or conferences to "be the face" of the firm. In contrast, while my colleagues (who were Vietnamese locals) were brilliant practitioners, they were not offered these same opportunities because they did not have the same background as I did. This showed me what it is like to directly benefit from privilege, and how easy it can be to overlook this when you are the one gaining the benefit. On the other hand, because I did not grow up with the same financial resources or ties to the legal profession as some of my peers in Canada, I found myself sharing similar experiences as my Vietnamese colleagues while working here.
I highly recommend that everyone discover for themselves what it is like to work overseas, because interacting with people and systems outside of our "bubble" in Vancouver can help us develop empathy for others and an awareness of how we participate in systems of privilege. The time I have spent in other countries has really allowed me to see what it is like on the other side of the "bamboo ceiling." 
All of this is to say that we need lawyers who can practice with empathy and are open-minded to meaningfully discussing these kinds of experiences.
CALS: The Living Room Series and Beyond the A are two unique initiatives that you founded in the last five years. What are these initiatives and what motivated you to create them?
Steven: The Living Room Series was an initiative that I created with a friend during my articling year. When I attended events, I found that participants were often asked the same surface-level questions (e.g. Where do you practice? Where did you go to school? What did you study?). My friend and I wanted to have more fulsome conversations about topics like identity, growth, and vulnerability. And that's how the Living Room Series started: a group of friends gathering in a living room to share our thoughts on deeper topics! We have been operating since 2017—we currently have 5 different chapters around the world, thousands of participants, and plenty of events to come together and explore these dialogues. For Beyond the A, I wanted to de-stigmatise and tackle issues surrounding anxiety and mental health, empowering lawyers to have open conversations about these topics within the profession. I also recently created the series, 2 Dads, 1 Car, which is targeted at new dads and explores some of the unspoken truths about modern parenting. My goal with these projects is to fill in any gaps that I see in the discourse or creative initiatives available to us by building them myself! 
CALS: What advice do you have for CALS readers or to young lawyers and law students in general?
Steven: There is more to life than just working—we have so many enriching relationships that exist outside of the billable hour model, and I think that the pandemic has highlighted our need for meaningful connections. It is easy to get lost in the chaos of the world around us; what we need to remember is that we ultimately control our actions and our presence in the world. Law is a part of my identity, but it is still only one part—we need to connect with the other sides of ourselves to live truly fulfilling lives.
I am still in the process of learning and growing as an individual, and the one piece of advice I would give to law students and young lawyers is to follow your intuition. Lawyers are very intelligent and well-versed in working with precedents and black letter law, but the secret ingredient to success is intuition—what does your gut say? Young lawyers get a lot of different opinions on what their "right path" should look like, but you need to trust your own personal drive and what you want for the future. A pilot needs to check their settings before they fly an airplane; spending even ten minutes in the morning to write down ideas in a journal, exercising, or meditating will help you separate yourself from the hectic rush of life. We tend to become swamped by our work as lawyers, and in this rush, we often forget the value of intuition. The most effective lawyers are those who learn how to listen to and apply this intuition so that they are at their best when helping others.
The past year has brought a lot of changes, and a lot of fear and anger. I think it is important to remember that lawyers remain the voice of reason and have a responsibility to uphold the rule of law, especially during these times. When I experienced a hate crime earlier this year, I ended up speaking out about some of the barriers that existed for victims in reporting such incidents to authorities. I did this because I understood that I have an important voice in society, and a corresponding duty to use this to make a difference. Empathy, reason, and intuition are the key values that I hope young lawyers will keep with them as they move forward in the legal profession.
---