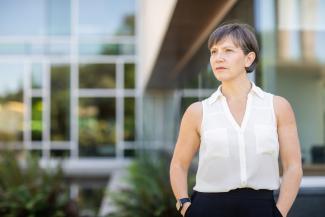 For nearly 15 years, the UBC Innocence Project has been investigating claims of wrongful conviction in British Columbia. The Project brings together Allard Law students and supervising lawyers to review case files from investigation through to appeal — a process that can take more than 10 years. There have been a few recent wins, and many of the program's alumni say it's changed how they see their role as lawyers.
Building the Project from the ground up
Tamara Levy, QC, co-founder and director of the Project, says the idea to start an Innocence Project at UBC came to her while teaching a course on advanced evidence, which reviewed topics commonly identified as causes of wrongful convictions — eyewitness identification, confessions and jailhouse informant testimony. She took her idea to her friend and colleague Professor Nikos Harris, QC (LLB '95), who, coincidentally, had also been approached by a group of law students who were interested in starting an innocence project. The group formed a committee and began to think about a model that would work for UBC
In 2007, the program launched with just three cases. Their client base has since grown, but Levy says they've never been inundated with applications. "On average, it takes 8 to 12 years to review and work a case through a system of exoneration. If someone is only sentenced to 3 or 5 years, it's sometimes not worth their effort to pursue a claim of wrongful conviction," she explains. That means, in practice, the Project tends to accept only homicide files, which come with much longer sentences.
"It's a long process," says Levy, but they've had some recent successes. In November 2020, the UBC Innocence Project helped clear the name of Tomas Yebes, who had been wrongfully convicted of murdering his two sons in 1983. A month later, Gerald Klassen was released on bail after new expert evidence called into question evidence from his original trial. Klassen had spent more than 25 years in prison for first-degree murder. "I hope that with these and potentially a few more exonerations, we're able to shine a light on why these wrongful convictions occur," says Levy.
Levy points out that the work can be challenging — and at times tedious. "In the most egregious case I can recall, we had 14 bankers' boxes of materials that were just thrown at us," she says. "After a trial, lawyers can be so tired and worn down, they just throw everything in a box. We sometimes have to do a lot of file re-organization to try to make sense of what we have to review and what we still need to get." Despite the challenges, Levy says she's continually impressed by what her students manage to accomplish. "They do way more work than they get credit for."
Ian Bownick is an Allard Law student who completed the program last year. He says studying law can leave you feeling detached, but the program has given him a greater understanding of the many dangers and challenges prisoners face. "My work with the project will absolutely inform the sense of empathy I can bring to dealing with clients in the future," says Bownick.
"Getting hooked"
Many of Levy's students say they find the work not just rewarding, but fascinating. "I tell the students, you'll never again get exposed to 18 really interesting homicide files at once in your career. They get hooked on the whodunit," she explains. Whether or not her students practice criminal law, Levy says the lessons they learn will stay with them: "One thing I tell them in orientation is that I want them to come out of this program with an inquisitive mind. To never accept the evidence at face value, to always ask questions about it, to make sure it's reliable." But while many students go on to practice law in other areas, she says, some stay hooked.
Alexandra Ballantyne (JD '16) is one such former student. She's been involved with the project as a student, a contract staff lawyer, a supervising lawyer and a volunteer. "It sounds cliché, but I knew I wanted to be part of the project for as long as they would have me," she says. "Having the opportunity to play a part in correcting individual miscarriages of justice, as well as exposing, reforming and educating on the systemic dysfunction of the criminal justice system, continues to be the most meaningful work that I do."
As a staff lawyer on the project, Ballantyne developed a framework for evaluating possible wrongful convictions in shaken baby syndrome cases — where it's believed infants or toddlers were injured or died as a result of forceful shaking. She says new research shows the syndrome has been "dramatically overdiagnosed," and symptoms considered to be proof of the syndrome can have other causes. "Prior to this shift in the scientific landscape, many people, most often parents and caregivers, were convicted of shaking a baby to death based on faulty forensic science," she says.
Tony Paisana (JD '10), now a partner at Peck and Company, worked with the project as a student and has since returned as a supervising lawyer. He says there's a desperate need for lawyers to take on post-conviction review work because "there is simply no one else that can effectively do the job of overturning these troubling cases." For Paisana, working with students and seeing their excitement is both "incredibly rewarding" and a chance to help lay the foundation for future lawyers.
How to get involved
Each year the UBC Innocence Project engages the talents and enthusiasm of a select group of Allard Law students to review claims of wrongful conviction in BC. Visit the UBC Innocence Project student page for more information about the program and how to apply as an Allard Law student.
Alumni who are interested in learning more about opportunities to get involved are invited to get in touch with the Project.
---
This article was originally featured in the 2021 Allard Law alumni magazine. Read the magazine online.
---