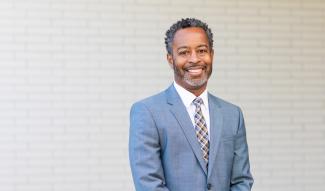 We are pleased to announce that on November 8, Ngai Pindell begins a five-year term as Dean of the Peter A. Allard School of Law.
Dean Pindell is an accomplished academic who has researched and taught in the areas of property law, affordable housing, community development and local government law. He has held several senior academic administrative roles and is a recent appointee to the Diversity, Equity, and Inclusion Committee of the Law School Admission Council. He joins Allard Law from the William S. Boyd School of Law of the University of Nevada, Las Vegas. 
The law school sincerely thanks Professor Janine Benedet for her service and dedication to our students during her time as Dean pro tem.
We recently had the opportunity to speak with Dean Pindell about his new role. You can read the full Q&A with Dean Pindell in our upcoming issue of Allard Law's alumni magazine.
What are you looking forward to most about your new role at Allard Law?
It's an honour to have been chosen as Allard Law's next dean. The faculty are internationally recognized scholars on a broad range of issues, including Indigenous and Aboriginal law. Alumni are leaders across Canada in the bar and on the bench. And the school's location in Vancouver provides an excellent opportunity to make an impact in North America and beyond.
On a more personal note, the dean interacts with a lot of people, and I'm looking forward to getting to know students, faculty, staff, alumni and the broader Allard Law community. After working remotely for over a year, it's refreshing and exciting to talk with people face to face, albeit many masked faces. I've missed the casual, everyday interactions that foster community and remind all of us in the law school community why we love teaching and working together.
What draws you to administration?
I'm grateful for the support and encouragement institutions have provided me as a student and a faculty member. Working in administration allows me to pay that debt forward. Writing and teaching are rewarding activities – you get the opportunity to dive deeply into a specific area of law and policy. But serving as an administrator allows me to take a more expansive look at legal issues and legal education. I have the opportunity to problem solve at the individual and institutional level, helping faculty find their scholarly voice, students explore new career opportunities and helping the law school better serve the community.
What has been your favourite class to teach at law school?
Property law has been my favourite class to teach by far. Property explores legal relationships between people and legal relationships between people and land or objects. The distribution of property communicates a lot of information about a community's values. Current property distributions are neither random nor necessarily earned, but they have a tremendous impact on people's life experiences. The law school's presence on the traditional, ancestral and unceded territory of the Musqueam people is one of many examples of complicated property relationships that a property class attempts to analyze and understand.
In my class, I focus both on the rules of property and the impact of those rules on society. I want students to be thoughtful about how access – or lack of access – to property impacts people's lives. For example, COVID recently demonstrated that access to property is a public health issue, as families and communities struggled with what it meant to work, worship and attend school from home.
What first attracted you to the legal profession?
I remember writing in my admissions application that I was applying to law school to learn how the world worked. While I may not have gotten all of the answers I was looking for, I have always valued the role of law in providing a structure for personal and professional interactions. As a young law school graduate, I hoped to use the power of law to transform lives and communities as a community development lawyer in Baltimore, Maryland. We left many communities better off than we found them, but we did not transform the city overnight. Progress takes time and dedication, and the law can be a critical component of change.
---