The business sector is no stranger to facing disruptive and destabilizing events in the 21st century. But in the wake of the global COVID-19 pandemic, our world is going to be redefined as the time before and the time after. Professor Carol Liao points out that our understandings on the role of business and law in advancing economic, social, and environmental sustainability are going to be reformulated post-pandemic, whether we like it or not. The open-ended question is what that reformulation will entail.
Professor Liao is the recipient of a five-year Insight Grant funded by the Social Sciences and Humanities Research Council (SSHRC), where she is undertaking a multi-stakeholder and multi-jurisdictional qualitative study to identify the fundamental principles driving the development of corporate law and governance in light of significantly increased social and environmental risks in our global landscape. Her project builds upon her 2013 award-winning empirical study, A Canadian Model of Corporate Governance, which was published in the Dalhousie Law Journal and is the most downloaded paper of All Time Top Papers in the Corporate Governance Network on Canada by the Social Science Research Network.
Traditional corporate law and corporate governance theories underlying scholarship, policy, and industry form the basis of some of the most contentious historical debates in corporate legal scholarship, and inform much of the teachings in law and business schools. Norms such as shareholder primacy have reverberated in corporate boardrooms for decades. Yet there is considerable misinformation and incorrect assumptions on what the law requires companies to do, and we are now in a transitory phase in the development of corporate law and governance principles. Corporate social responsibility (CSR) has traditionally been regarded as voluntary practices exercised under the purview of corporate discretion. Now, the COVID-19 pandemic has disrupted the status quo and legal and regulatory frameworks are adapting in response to changing expectations.
Professor Liao reflects upon how the saturated arena of CSR scholarship has found new grounding in the law. "The notable shift in academic dialogue prior to COVID-19 has been to identify business case CSR as a path-dependent and weak form of sustainability that is insufficient in addressing the foundational changes needed to meet the United Nations Sustainable Development Goals and climate targets by 2030. It is necessary to ensure the transformation of business law following COVID-19 does not exist in a vacuum, but will finally take into account the realities of our interconnected world and the impacts of business in attaining a sustainable future," Professor Liao explains.
Professor Liao seeks to reframe discussions on corporate law and corporate governance, the purpose of the corporation, fiduciary duties, and shareholder wealth maximization, using sustainable business archetypes and new economic approaches to measure value and place sustainability at the heart of future reform efforts, both nationally and internationally. Her project will create new knowledge by providing valuable empirical data on contemporary Canadian governance standards and a governance roadmap for Canadian directors post-pandemic, while highlighting Canada's place in the next era of corporate sustainability governance and situating Canada's role in international frameworks.
In addition to her SSHRC project, Professor Liao is currently the editor and co-editor of three forthcoming books on sustainable business. The first book, Corporate Social Responsibility and the Law from the Next Generation of Lawyers (manuscript currently under peer-review), is a compilation of essays from young lawyers on topical CSR issues, recognizing that as planetary problems have intergenerational effects, the solutions and path forward must also include intergenerational voices. Her second book, Innovating Business for Sustainability: Regulatory Approaches in the Anthropocene, co-edited with Professor Aikaterini Argyrou of Nyenrode Business Universiteit and Professor Beate Sjåfjell of the University of Oslo (Edward Elgar, forthcoming 2020), brings together contributors from around the world to fill a significant gap in the literature on sustainable business, namely the regulatory pathways to achieving corporate sustainability and a gendered perspective of how global goals are shaped and how business can contribute to them. Her third book, Contemporary Theories in Corporate Law and Corporate Governance, co-edited with Professor Sjåfjell, seeks to upend and redraw outdated theories in corporate law and corporate governance to ensure that new theories are in place to lead into the next decade under our climate emergency in the post-pandemic era.
Professor Liao is also a Canada Climate Governance Expert with the Canada Climate Law Initiative (CCLI) led by Professor Janis Sarra and Professor Cynthia Williams. The CCLI examines the legal basis for corporate directors, officers and pension fiduciaries to consider, manage, and report on climate-related financial risks and opportunities, advancing knowledge on effective climate governance practices and exploring the scope and limits of fiduciary obligation in respect of climate change. Professor Liao will be joining as a co-principal investigator with Professors Sarra and Williams in Phase III of the CCLI.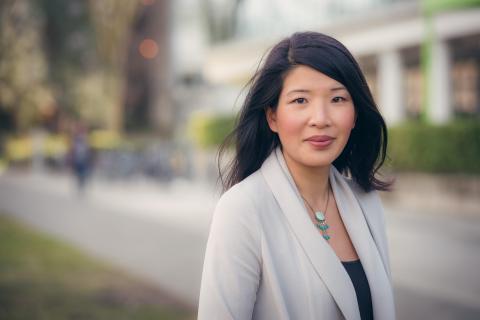 PROFESSOR CAROL LIAO
Dr. Carol Liao is an Assistant Professor and Director of the Centre for Business Law at the Allard School of Law. She is also the UBC Sauder Distinguished Scholar of the Peter P. Dhillon Centre for Business Ethics at the UBC Sauder School of Business. Prior to academia, she was a senior associate in the Mergers & Acquisitions Group of Shearman & Sterling LLP in New York.
---