Sep 25, 2019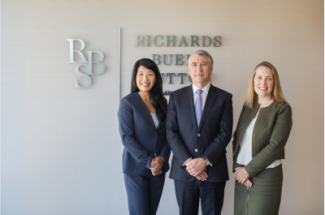 The Allard School of Law at UBC is pleased to announce a gift of $250,000 from Richards Buell Sutton LLP (RBS) to enable the law school to continue operating its Business Law Clinic over the next five years. The Clinic provides legal advice to local entrepreneurs, small businesses, and non-profit organizations. Students benefit from hands-on learning opportunities to develop practical skills while also learning about substantive areas of business law. This program will also strengthen the outstanding educational programs offered by the law school's Centre for Business Law. 
"Our firm has had a long and rewarding relationship with UBC, and we are delighted to maintain our support through our contribution to the Business Law Clinic," said Jeffrey J. Lowe Q.C., Managing Partner of RBS. "The Business Law Clinic is another example of the innovative approach of the Allard School of Law to legal education, which includes experiential learning opportunities for our future business lawyers."
RBS has had a special connection with UBC for 110 plus years, as their predecessor firm helped draft the original University Act, establishing The University of British Columbia in 1908.
"We are thrilled by Richards Buell Sutton's new commitment in support of the Business Law Clinic which provides a wonderful opportunity for students to develop skills in an academic and supportive environment," said Dean Catherine Dauvergne. "We recently changed our curriculum to ensure that all students have at least one student experiential learning opportunity as part of their law degree.  Much of our experiential learning relies on philanthropic support and we are very grateful to RBS and the firm's leadership in this area." 
In addition to this new commitment, RBS has generously donated a $1 million leadership gift to the law school's building project. The firm has also supported a number of initiatives over the years including the Chair in Feminist Legal Studies, the Nathan T. Nemetz Chair in Legal History, and student financial aid.
We are grateful to Richards Buell Sutton LLP for their support of and commitment to the Allard School of Law at UBC.
---