The legal architecture of ownership is a crucial part of understanding the shape of the modern North American city, and condominium as a particular legal form resides at its core. Or so argues Professor Douglas Harris, whose most recent research explores how condominium is transforming not only urban geography, but the way in which we think about property and about ownership of interests in land.
Inspired by a desire to help students in his first year property law classes to see the workings of property doctrine in the city, Professor Harris has used the City of Vancouver as his laboratory. "Vancouver," claims Professor Harris, "is representative of a trend across North America towards condominium ownership, but also extraordinary for the extent to which it has penetrated the residential property market. The city, with a population of 630,000, has approximately 100,000 individual condominium units. And among residents who own their homes, a majority will soon be owning those homes within condominium. We need to be paying attention to how condominium ownership is changing ideas of ownership and contributing to the shaping of the city."
Condominium, or strata property as it is known in British Columbia, is a package of four distinctive elements: an individual interest in a private parcel of land; an undivided share of the common property held as a tenant-in-common with the other owners; a right to participate in the collective governance of both the private and the common property; and an obligation to contribute to the maintenance of the common property. It was an arrangement that was possible to construct at common law, but difficult to sustain until British Columbia introduced a statutory template in 1966. The province's Strata Title Act, built around a model from the Australian state of New South Wales, was the first condominium legislation in Canada. Other provinces were soon to follow.
Professor Harris' interest in condominium law extends beyond its impact on the city to an analysis of how it is reshaping property law doctrine and the idea of ownership of land. This reshaping, suggests Professor Harris, is a function of the spatial reorganization of owners. "The idea of ownership in land developed in a context where owners were spread in a single layer over the surface of the earth," explains Professor Harris. "Condominium facilitates the stacking of owners in a vertical column many stories high. This density of owners is changing what it means to be an owner."
One of Professor Harris' recently published articles focusses on the challenges created by chronic and extreme anti-social behaviour within a condominium development. In response, courts in Ontario and British Columbia have begun to issue eviction and forced sale orders against owners within condominium whose disruptive, threatening, and abusive behaviour has, in some cases, caused their neighbours to fear for their lives. "Ownership in land has not, until these cases, been conditional on some minimal threshold of personal behaviour," says Professor Harris, "but it seems appropriate in the condominium context, at least until one recognizes that the behaviour is commonly attributable, at least in part, to mental illness." This finding has caused Professor Harris to question whether it is appropriate to make this fundamental change in what it means to be an owner when the owners who lose their property are often those who suffer a mental illness.
Another of Professor Harris' projects analyses the termination or dissolution rules that govern the cancellation of a strata plan, the termination of individual strata lots, and the winding-up of the strata corporation. Until 2016, British Columbia required the unanimous consent of owners or a court order to dissolve condominium property. However, the province has reduced the threshold to 80 percent – a supermajority of owners may now push through the dissolution of a condominium development, and thus force the termination of ownership over the objections of a minority. On dissolution, the owners become tenants-in-common of all the land that was formerly within the strata property development. "The impetus for dissolving strata property," explains Professor Harris, "is usually some combination of a large renovation expense and a developer's offer for the whole parcel."
The result is that the owners would receive more for their share of a collective sale than for their lot within the condominium development. However, for those who are opposed to selling, the cost of facilitating the capacity of a majority to maximize the exchange value of their interests is the involuntary loss of property and, in the case of residential property, of home. Professor Harris describes the shift in dissolution regimes as reflecting a choice to protect the investment value of land rather than to protect other values, such as property as home.
Professor Harris is currently studying a particular version of strata property – the bare land strata. This device enables the subdivision of bare or undeveloped land rather than buildings, and has become common in suburban and rural British Columbia. Among other things, the project involves mapping the bare land subdivisions in the province, and early results reveal extensive use of the legal form on Vancouver Island and in the Okanagan.
Professor Harris' attributes much of his scholarly interest in condominium law to his teaching of property law, and he has been integrating the legal form into his first year property teaching for many years. This has involved taking students out of the classroom and into the city on annual field trips where, as he explains, "I encourage the students to read the urban landscape as a property law text."
In 2017, Professor Harris taught the first course in condominium law at the Allard School of Law since Professor Dennis Pavlich offered a similar course in the 1980s. Nearly 40 students enrolled, and Professor Harris credits the level of interest to professional and personal motivations. "Condominium law has become a recognized area of legal practice, but the legal form has also become so ubiquitous that facility with it has the potential to be broadly useful," suggests Professor Harris. "Moreover, some students already own property within condominium, and many others expect to. They want to know about condominium law because they expect to be living within it." There were several students in his first class who were strata council presidents.
Professor Harris will be teaching condominium law at Allard Hall in 2017/2018, and as a visiting faculty member at the University of Melbourne's Law School.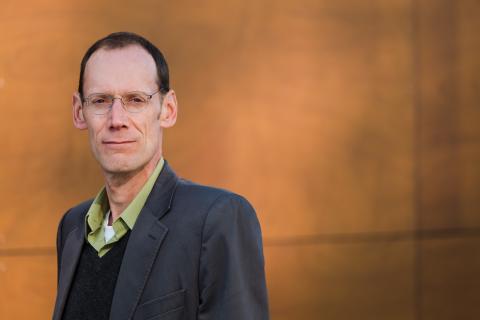 PROFESSOR DOUGLAS HARRIS
After completing his B.A. in History (UBC) and LL.B. (Toronto), Professor Harris articled in Vancouver and was called to the British Columbia bar in 1994. He returned to school to complete LL.M. (UBC) and his PhD (Osgoode Hall, York University) degrees in legal history. Professor Harris joined the Allard School of Law in 2001 and served as Associate Dean Graduate Studies & Research from 2008-2013. He currently teaches in the areas of property law and legal history, and his research focuses on the history of the regulation of the Aboriginal fisheries in British Columbia and on the nature of property ownership within condominium.
---