Oct 13, 2016
A graduate student with a B.A. Honours from the University of Western Ontario, Canada in Media, Information and Technoculture and French Literature, Maira Hassan completed her LLB Honours from Queen Mary University of London in the UK. During her law degree, she volunteered at University House Legal Advice Centre, assisting solicitors in interviewing as well as representing clients in Tribunals for Employment Support Allowance (ESA).
Her passion for women's issues arose when she reached out to U-TURN women's centre in East London, UK during her final year of law school requesting to volunteer. She volunteered at the centre and contributed to the research report being conducted at the time on Women Involved in Street Sex Work in the UK. In her current undertaking in the research-based LLM at the University of British Columbia, inspired by her research work with Saskia Hufnagel on Women in International Policing, predominantly in the European context, she aspires now to dive into the Canadian perspective of women in peacekeeping under the supervision of Professor Benjamin Perrin. She is also the recipient of the Allard Scholar Graduate Fellowship.
Detailing the experience of women in the naturalized masculine space of peacekeeping missions, in particular military trained peacekeepers, she focuses on how Canada matches up to the UN Resolution 1325 on Women, Peace and Security, since its implementation in 2000. Her research draws from the reality she has experienced as a raced woman. Her Pakistani heritage and Canadian upbringing seeps into her writing and research through a constant tension between the desire to belong as a minority and the need to maintain control of defining her multi-faceted identity. Aside from her research in law she also gave a talk for TEDxQMUL, analysing the concept of orientalism as a Pakistani-Canadian.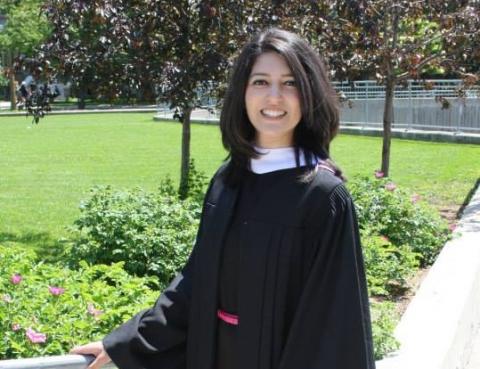 ---
Research Stories

Equality and Social Justice