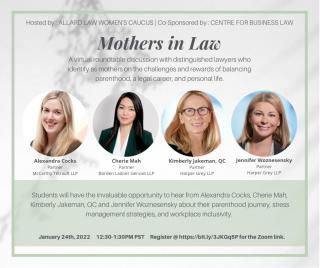 The Allard Law Women's Caucus is hosting a virtual roundtable discussion with distinguished lawyers who identify as mothers on the challenges and rewards of balancing parenthood, a legal career, and personal life. This discussion will be focused primarily on the experience of motherhood in Big Law.
Students will have the invaluable opportunity to hear from Alexandra Cocks, Cherie Mah, Kimberly Jakeman, QC and Jennifer Woznesensky about their parenthood journey, stress management strategies, and workplace inclusivity.
This event will take place via Zoom on Monday, January 24th from 12:30-1:30pm PST.
---
Centre for Business Law

General Audience