Wellbeing Wednesdays is an event series presented by Student Wellbeing. This series includes informative passive and active events focusing each month on one of the 6 elements of law student wellbeing:
September: Social Wellbeing
October: Emotional Wellbeing
November: Occupational Wellbeing
January: Intellectual Wellbeing
February: Physical Wellbeing
March: Spiritual Wellbeing
During the lunch period, law students of all years are invited to meet Andrea Falco, Student Wellbeing Counsellor for activities and resources to help promote the monthly wellbeing focus in their lives.
Today's Session:
Take a break and get creative! This paint-by-numbers activity is intended to help build connections in a creative setting.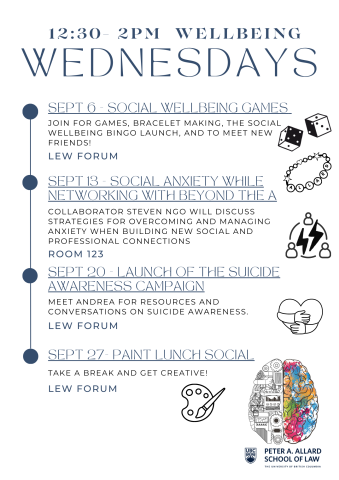 ---
Student Wellbeing

All Students

Graduate Students

JD

Student Events