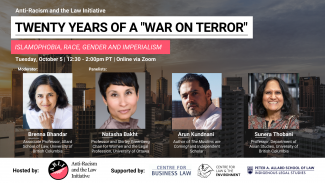 The events of September 11, 2001, inaugurated a "war on terror" whose effects have been profound and wide-ranging. This workshop will explore a range of political and legal concerns on this topic: security regimes and securitization, methods of surveillance on racialized populations, the renewal of gendered forms of Islamophobia, and neo-imperial warfare in the Middle East, North Africa and Asia, all of which are part of the ongoing reconfiguration of the global order.
Natasha Bakht, Professor and Shirley Greenberg Chair for Women and the Legal Profession, University of Ottawa: "Niqab Bans and Anti-Muslim Racism: Routes in Law"
Arun Kundnani, Author of The Muslims are Coming! and Independent Scholar: "Abolish National Security"
Sunera Thobani, Professor, Department of Asian Studies, University of British Columbia: "Islamophobia: The (Re)making of the International Order"
Moderated by Brenna Bhandar, Associate Professor, Allard School of Law, University of British Columbia.
Hosted by the Anti-Racism and the Law Initiative (ARLI), newly launched by Allard Law professors, with support from the Centre for Law and the Environment, Indigenous Legal Studies, and Centre for Business Law.
This event qualifies for 1.5 CPD ethics credits.
---
Centre for Business Law

Continuing Professional Development