Weekly 1/2hr yoga sessions lead by 1L student Eira, a professional dancer with Cirque du Soleil & yoga instructor. Eira holds a degree in Psychology & Sexuality, and is certified in Hatha Yoga, Informed Yoga, Elderly Yoga & Prenatal Yoga, and inspired by Vipassana meditation practice. Join us weekly from 1-1.30pm as Eira helps you form a connection to your breath and body. No prior experience is required.
This event will be held weekly every Monday from January 17th until March 28th. 

Email Anna at kline@allard.ubc.ca to register.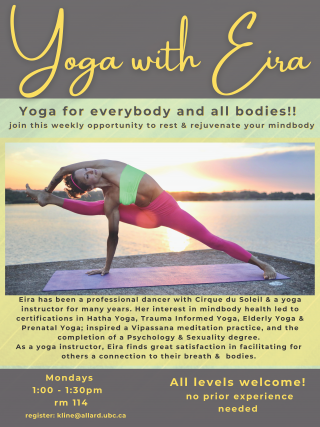 ---
JD Student and Academic Services

All Students