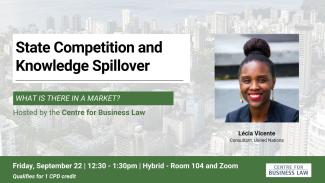 Lécia Vicente will be presenting her latest publication entitled "State Competition and Knowledge Spillover: What is There in a Market?" The article looks at how companies create monopolies that coat toxic corporate environments and prevent market access to employees. It explores a few solutions that nudge legislators to protect market freedoms (e.g., freedoms of movement and establishment) and boards to embrace competition and facilitate market access by comparing the US and EU market structures. 
This event will be hosted both online and in person. Lunch will be provided for in person attendees. 
Zoom Registration In Person Registration  
Qualifies for 1 CPD credit.
---
Centre for Business Law

General Public

All Students

Alumni

Continuing Professional Development

Faculty

Graduate Students

JD

Research Talks