Event Description:
Taking the normative ordering of the human-nature relationship as my point of departure, in this presentation (a thought-in-progress really), I contrast the epistemological foundation of the common law with the empirical evidence offered by natural sciences. There is a disjuncture between the traditional narrative of the human-nature relationship in the common law and how that relationship is understood on the basis of empirical evidence offered by natural sciences. The common law's Greco-Roman and Judaeo-Christian heritage, particularly the latter, discern human-nature relationship as a relationship of domination and subservience – human mastery over nature. This knowledge of the relationship in the common law tradition has particular significance for normative ordering of property and economic development. In contrasting the lineage of the common law and (empirically grounded) imagination of nature, I argue that the continued authenticity of the common law in socio-ecological ordering of the human-nature relationship is conditional upon its willingness to subject its epistemological foundation to empirical verification and its responsiveness to heterogeneous legal orders that conceive the relationship differently.
This is a hybrid event. Please contact Michelle Burchill, Events Manager at burchill@allard.ubc.ca for the Zoom link. A limited number of light lunches will be available for those attending in person.
Speaker: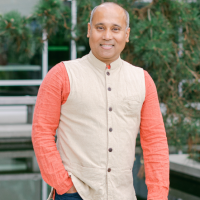 Supriya Routh is an Associate Professor at the Allard School of Law. His research interests include theory of labour and employment law, legitimacy of law-making for sustainable livelihoods, social justice and global value chains, postcolonialism and informal workers in the Global South, human rights and international labour law, and workers' collective action. His socio-legal research agenda straddles the disciplines of law, political philosophy, and sociology.
Supriya's current SSHRC-funded research examines Indigenous normative ideas on the relationship between livelihood activities (work) and sustainability of nature. By examining the idea of sustainable livelihood (sustainable development) as contemplated by the Pehdzeh Ki First Nation (PKFN) in the Northwest Territories, his research aims to contribute to non-Eurocentric and postcolonial legal imaginations in regulating sustainable development by generating empirical data and contributing to the theoretical literature on law, postcolonialism, and development.
Supriya is the author of Enhancing Capabilities through Labour Law: Informal Workers in India (Routledge, 2014) and scholarly articles on labour law, legal legitimacy, regulation of informal economic activities, workers' collective action, regulation of work and environment, corporate social responsibility, right to information, and legal education. He is the co-editor (with Vando Borghi) of Workers and the Global Informal Economy: Interdisciplinary Perspectives (Routledge, 2016). Supriya has also co-authored / co-edited teaching and reference books namely, the Labour and Employment Law: Cases, Materials, and Commentary, Nonth Edition (Irwin Law, 2018) and Amartya Sen and Law (Routledge, 2020).
Prior to joining the Allard School of Law, Supriya was an Assistant and Associate Professor at the Faculty of Law, University of Victoria, where he also held an appointment as an Associate at the Centre for Asia-Pacific Initiatives. Before moving to Canada, he was an Assistant Professor at the West Bengal National University of Juridical Sciences in India.
---
Allard School of Law

All Students

Faculty