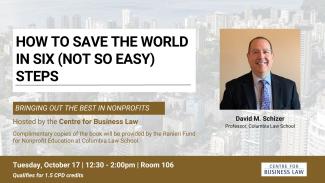 We all depend heavily on nonprofits—for education, health care, social services, spiritual fulfillment, and much more. But unfortunately, too many nonprofits let us down, hobbled by inefficiency, infighting, and inertia. So what should we do? In his new book, How to Save the World in Six (Not So Easy) Steps: Bringing Out the Best in Nonprofits, David Schizer exposes the root causes of these problems and explains how to solve them.
Complimentary copies of the book will be provided by the Ranieri Fund for Nonprofit Education at Columbia Law School.
Registration for this event is required. Lunch will be provided. If you have any severe dietary restrictions please email cblassistant@allard.ubc.ca so that we may accommodate.
Qualifies for 1.5 CPD credits.
About David Schizer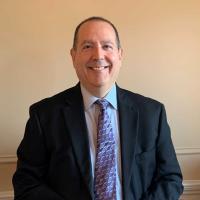 David Schizer is Dean Emeritus and Harvey R. Miller Professor of Law & Economics at Columbia Law School. A twenty-five year veteran of the nonprofit world, he became the youngest dean in Columbia Law School's history at age thirty-five. Schizer also served as the CEO of JDC, a humanitarian organization active in seventy countries with a $365 million annual budget. Schizer is a scholar of nonprofits, tax, energy, and business law. He also clerked for US Supreme Court Justice Ruth Bader Ginsburg.
---
Centre for Business Law

All Students

Continuing Professional Development

Graduate Students

JD

Student Events