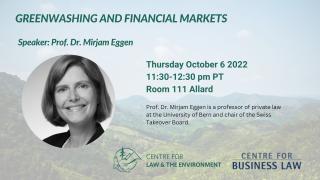 Event Description: 
In order to achieve the climate targets set out in the Paris Agreement, it is essential that financial flows are redirected in such a way that sustainable investments are made. For sustainable investments to be recognized by market participants, sufficient information about their environmental risks and impacts must be available. 
Information on the sustainability of companies and products is only meaningful if legislators establish a sound reporting framework on sustainability matters. Regulators around the world have already taken important steps in this direction. What remains controversial is whether transparency requirements should be limited to environmental issues that impact investors and creditors of the reporting company (financial materiality), or whether information that impacts third parties should also be included in the reporting (impact materiality). While the EU is clearly committed to so-called double materiality, other jurisdictions, e.g., the USA, are currently still in favor of financial materiality-reporting standards.
Speaker:
Prof. Dr. Mirjam Eggen is a professor of private law at the University of Bern. Her research focuses on the law of obligations and financial markets. She is particularly concerned with national and international sales contract law, and the relationships under the law of obligations in new technologies such as the Blockchain or the Internet of Things. In addition, she conducts research in the area of the sustainable design of financial flows and the legal framework required for this.
Mirjam Eggen is the chair of the Swiss Takeover Board and has been retained on several occasions by the Swiss Department of Justice and Swiss financial market regulators to advise on securities regulation and the law of contracts.
---
Allard School of Law

Centre for Business Law

General Public