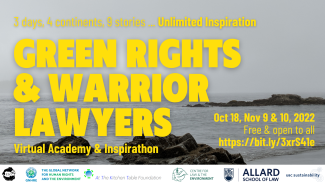 How can lawyers and Indigenous legal knowledge holders use the power of law to fight for environmental justice, human rights to a healthy environment and the rights of non-human beings and ecosystems?
The First Annual Green Rights & Warrior Lawyers Virtual Academy and Inspirathon seeks to inform and inspire interested people around the world about the role of law in securing environmental rights and justice.
This innovative program mobilizes the power of stories to bring issues of environmental rights and justice to life and inspire action, as nine courageous "Warrior Lawyers" from around the world share their stories of advancing "Green Rights" through (or sometimes despite) law. Featuring:
Cormac Cullinan, lawyer and pioneer of Wild Law and Earth Jurisprudence (South Africa)
Steven Donziger, attorney for the Ecuadorean plaintiffs in the Chevron Toxico saga (USA)
Mumta Ito, lawyer, environmental campaigner and Executive Director of Nature's Rights (UK)
Marjan Minnesma, lawyer, social entrepreneur, Goldman Prize winner and Executive Director of the Urgenda Foundation (Netherlands)
Tony Oposa, lawyer, storyteller, change maker and Normandy Chair for Peace (Philippines)
Brian Preston, Chief Justice of the New South Wales Land & Environment Court (Australia)
Jacinta Ruru, Māori legal scholar, University of Otago (Aotearoa/New Zealand)
Chima Williams, lawyer, Goldman Prize winner and Executive Director of Environmental Rights Action/Friends of the Earth Nigeria (Nigeria)
Terri-Lynn Williams-Davidson, Haida lawyer, artist and musician (Canada)
The program has two parts: a virtual Academy, open to all, and a collaborative Inspirathon, open to current university students from anywhere in the world.
Part 1: The Academy
October 18, November 9 & 10, 2022
Online, free and open to everyone, everywhere.
3 days, 4 continents, 9 stories ... Unlimited inspiration!
The Academy spans nine sessions over three days (Oct 18, Nov 9 & 10, 2022), each featuring a public talk by a leading Warrior Lawyer, reflections by an academic commentator and audience Q&A. Each Warrior Lawyer will tell their story of mobilizing law to advance environmental rights and justice, and close with a call to action aimed at prompting audience members to act upon what they have learned. The talks will be streamed live over Zoom, recorded and posted online.
The speakers are world leaders in their fields, including environmental justice, sustainable development, the human right to a healthy environment, rights of nature and Indigenous laws. They are based in four continents or global regions: Africa, Europe, North America, and Oceania (Australia, New Zealand/Aotearoa and the Philippines).
Each talk will be followed by a space-limited, informal "at the kitchen table" chat in which a small number of interested audience members who have signed up in advance can engage in a relaxed virtual conversation with the Warrior Lawyer who has just given a public talk. Spaces will be assigned first come, first served. These informal sessions will not be recorded. 
You may attend as many talks as you wish. Advance registration is required for live attendance.
The talks are scheduled to accommodate several time zones, but some take place overnight in some time zones. If you cannot watch a talk live, you are welcome to watch the recording.
Participants who attend six or more public talks and one or more "at the kitchen table" chats will receive an attestation of attendance at the Academy, upon request. Please note, however, that attendance at the Academy does not earn credit toward any academic credential. 
sCHEDULE
Day 1: Tuesday, October 18, 2022
Day 2: Wednesday, November 9, 2022
Day 3: Thursday, November 10, 2022
PART 2: THE INSPIRATHON
November 11 - 30, 2022
Open to current undergraduate and postgraduate university students everywhere.
The Academy will be followed by an Inspirathon, an innovative collaborative exercise open to teams of undergraduate and postgraduate university students in any discipline, from anywhere in the world. Students will work collaboratively to advance a campaign championed by one of our featured Warrior Lawyers, Tony Oposa, to transform nation-states' unsustainably exploited Exclusive Economic Zones into sustainably stewarded Enlightened Ecological Zones. This project is part of Tony's mandate as the Normandy Chair for Peace, the motto of which is "To have peace on Earth, we must have peace with the Earth."  
Students will sign up in teams of two or more. Teams will not compete but will work collaboratively under the supervision of the Inspirathon organizers to produce a collective output.  
Students who participate in the Inspirathon will receive an attestation of participation upon request. 
Stay tuned to this page for a team registration link, details of the Inspirathon task and instructions for participating teams, along with information about non-competitive prizes to be won!  
Sponsors
The Green Rights & Warrior Lawyers Virtual Academy and Inspirathon is organized and presented by the Centre for Law & the Environment at the Allard School of Law.
It is made possible by financial support from the At the Kitchen Table Foundation and the Catalyst Collaboration Fund of the Peter Wall Institute for Advanced Studies.
Event co-sponsors are the Global Network for Human Rights & the Environment, UBC Sustainability Hub, UBC Environmental Law Group and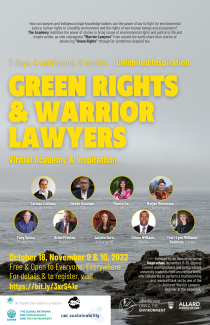 ---