Event Description:
This talk will analyze the reversal of Roe v. Wade  and the criminalization of abortion care in the U.S. from the perspective of the reproductive justice framework. It will then describe the theory of racism that the U.S. Supreme Court has adopted in recent terms, and it will explore how this theory of racism explains the Court's decision to overturn Roe v. Wade in Dobbs v. Jackson Women's Health Organization. 
This event is eligible for 1 CPD credit.
Speaker: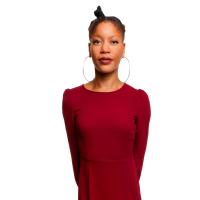 Khiara M. Bridges is a professor of law at UC Berkeley School of Law. She has written many articles concerning race, class, reproductive rights, and the intersection of the three. Her scholarship has appeared in the Harvard Law Review, Stanford Law Review, the Columbia Law Review, the California Law Review, the NYU Law Review, and the Virginia Law Review, among others. She is also the author of three books: Reproducing Race: An Ethnography of Pregnancy as a Site of Racialization (2011), The Poverty of Privacy Rights (2017), and Critical Race Theory: A Primer (2019). She is a coeditor of a reproductive justice book series that is published under the imprint of the University of California Press.
She graduated as valedictorian from Spelman College, receiving her degree in three years. She received her J.D. from Columbia Law School and her Ph.D., with distinction, from Columbia University's Department of Anthropology. While in law school, she was a teaching assistant for the former dean, David Leebron (Torts), as well as for the late E. Allan Farnsworth (Contracts). She was a member of the Columbia Law Review and a Kent Scholar. She speaks fluent Spanish and basic Arabic, and she is a classically trained ballet dancer.
About the lecture:
The Douglas McK. Brown Chair in Law was established in 1986 in honour of one of Canada's most distinguished counsel and one of British Columbia's most eminent citizens. Douglas McK. Brown was born in Vancouver in 1912 and educated at the University of British Columbia and in Cambridge, England. For many years he taught at the law school, in addition to his busy practice in the firm of Russell & DuMoulin and his many public interests.

Douglas McK. Brown died in 1982 and soon thereafter a campaign was initiated to establish a Chair of Law in his name. Distinguished Visitors are appointed to the Faculty to participate in the intellectual life of the law school and to contribute to its program of legal education, including delivering the Douglas McK. Brown Lecture.

The Lecture is a public expression of the Faculty's wish to commemorate Mr. Brown and to thank those whose contributions enabled the Chair to be endowed. It is open to the profession, students and the public.
---
Allard School of Law

Alumni & External Relations

Development

Research

General Public

All Students

Alumni

Continuing Professional Development

Faculty

Staff