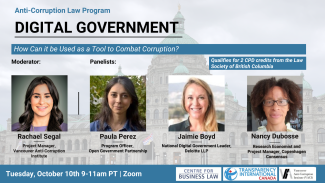 The Anti-Corruption Law Program (ACLP) is pleased to announce our upcoming webinar on the topic of  "Digital Government – How can it be used as a tool to combat corruption?"
This webinar, which has been organised by the Vancouver Anti-Corruption Institute (VACI), is based on the premise that Digital Government can be an important tool in the fight against corruption, and will explore problems encountered by governments in its effective implementation.
The webinar will focus on the use of digitization of government services in helping to weed out corrupt government practices. We will hear from three panelists who have in-depth knowledge of both the global and Canadian perspectives on the challenges and benefits of digital government, as well as the impact of digital government on government procurement.
Panel:
Rachael Segal - Moderator
Rachael Segal is a lawyer with a Master of Laws (LL.M.) from Osgoode Hall Law School.  She spent many years working in policy roles in Federal political offices including for two Members of Parliament, the Federal Government House Leader, the Federal Minister of Public Safety and Emergency Preparedness. She also acted as Director of Policy to a Canadian Senator.
Rachael has worked in provincial politics in both Ontario and British Columbia, as well as on campaigns at all levels of government across Canada, including the recent Mayoral campaign in Vancouver.
Rachael has extensive broadcast experience, having worked as a full time on-air for a Canadian television news network and as a weekly radio contributor with Newstalk 1010 in Toronto and CBC in Vancouver. In 2023 she founded an organization called Beyond a Ballot with a mission to move Canadian women towards politics.
Rachael has been working with the Vancouver Anti-Corruption Institute (VACI) as a project manager since its inception in 2020.
Paula Perez - Panelist
Paula Perez joined the Open Government Partnership in July 2019 working in the Americas Country Support team and is currently a Program Officer in the Thematic Policy Areas team.
Paula supports efforts to mobilize cross-country coalitions, strengthen partnerships and provides knowledge resources – working with OGP governments, civil society and other partners to leverage OGP to advance reforms in areas including anti-corruption and digital governance. Prior to OGP, Paula worked at Asociación Civil por la Igualdad y la Justicia (ACIJ) in Buenos Aires, Argentina, and as an independent consultant on fiscal openness, public sector transparency and citizen participation. She holds a degree in Political Science, from Universidad de Buenos Aires, and is currently working on her International Affairs master degree thesis from Universidad Torcuato Di Tella.
Jaimie Boyd - Panelist
Jaimie works with clients to accelerate digital change in the public sector, helping governments to better serve citizens using modern technologies. She previously served as the chief digital officer for the Government of British Columbia and has held a variety of leadership roles in the Government of Canada. Recognized as one of the World's 100 Most Influential People in Digital Government, Jaimie is a frequent speaker on service modernization, data-driven leadership, and the future of government. 
Nancy Dubosse - Panelist
Nancy Dubosse is an economist, specializing in the economic evaluation of public expenditures and development programming. She has worked throughout the African continent and in Haiti. Her latest publication is a cost-benefit analysis of e-government procurement implementation in low and lower-middle income countries, co-written with the Open Contracting Group and the World Bank. Dubosse obtained her doctorate in economics from the New School for Social Research, New York, USA.
This event qualifies for 2 CPD credits from the Law Society of British Columbia.
This webinar is being presented by the Anti-Corruption Law Program (ACLP), which is a joint continuing professional educational initiative of the Centre for Business Law at the Peter A. Allard School of Law at the University of British Columbia (UBC), Transparency International - Canada Chapter, and the Vancouver Anti-Corruption Institute at the International Centre for Criminal Law Reform and Criminal Justice Policy.
---
Centre for Business Law

General Public

Continuing Professional Development

Research Talks