Last spring we launched the process to develop a new strategic plan to guide the law school's efforts and ambitions over the next 5 years. To date, we've heard student ideas and feedback through a student town hall and survey, from student participants at a September strategic planning retreat, via our student representatives on the strategic planning steering committee and working groups, and from an 'open house' survey on January 12.  
 
On January 27, we will be holding a 2-hour session for faculty, staff and student representatives to generate ideas around goals and action items in each of the core areas of the strategic plan. This will build on our prior process to develop a strategic plan framework around vision, purpose and values for the law school. 
After January 27, there are several upcoming opportunities to share your thoughts and feedback. Students are welcome to join our working group, which will work on using the ideas from January 27 to develop a draft of our goals and actions. This will be reviewed by our steering committee, and will go from there to be voted on at Faculty Council in March and April.
Seeking Student Representatives for Strategic planning retreat
We are looking for Allard Law students to join faculty and staff on January 27 to help develop ideas for goals and actions for our next strategic plan. If you are interested in participating and for more information, please email communications@allard.ubc.ca by January 23rd.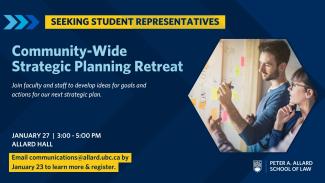 ---
Allard School of Law

All Students

Faculty

Graduate Students

JD

Staff