Wednesday, October 5, 2022, 12:30 - 2:00 PM PST
The Centre for Law & the Environment (CLE) at the University of British Columbia, in collaboration with Green College, is excited to welcome Professor Jan Haaken to give a public lecture on her upcoming project, Atomic Bamboozle.  
As political pressure mounts in the US to meet net zero carbon goals, the nuclear power industry makes its case for a nuclear "renaissance." In place of the highly costly nuclear towers that have been shut down across many regions of the country, investors began in the 2010s to promote small modular reactors (SMRs).  ATOMIC BAMBOOZLE, a documentary by Jan Haaken currently in production, follows anti-nuclear activists and attorneys from the Columbia River region as they draw lessons from the decades-long fight to shut down the Trojan Nuclear Power plant in Oregon and reflect on current promotional campaigns for SMRs. 
In this talk, Director Jan Haaken provides background on the project, an eight-minute "sizzler" or work sample, and discusses the role of collaborations with Indigenous and front-line communities in the making of the film. 
ABOUT THE SPEAKER
Jan Haaken is professor emeritus of psychology at Portland State University, a clinical psychologist, and an award-winning documentary filmmaker. Prior to the Necessity films, Haaken directed six feature films, including Our Bodies Our Doctors (2019), Milk Men: The Life and Times of Dairy Farmers (2016), Mind Zone: Therapists Behind the Front Lines (2014), Guilty Except for Insanity (2008), Queens of Heart: Community Therapists in Drag (2006) and Diamonds, Guns and Rice (2005). Her films focus on stressful jobs performed in liminal spaces and on the social margins. From refugee camps, war zones, psychiatric hospitals and abortion clinics to dairy farms, drag bars and hip-hop clubs, Haaken's documentaries focus on people working in various border zones and their insights on the world around them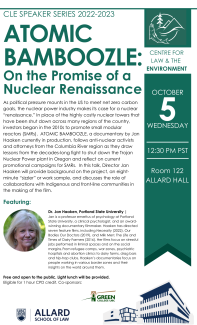 ---
Centre for Law and the Environment

General Public

All Students

Faculty

Research Talks