Submitting a human rights complaint is now a bit easier for some BC residents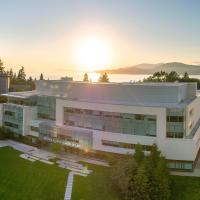 Jun 8, 2023
It's no secret that many people in BC aren't able to access the justice system in an affordable and timely manner.
Recognizing this issue, Michael Harcourt (LLB '68) founded the Community Legal Assistance Society (CLAS) in 1971 – BC's first community law office. When the government closed the doors of the former Human Rights Commission in the early 2000s and individuals suddenly became responsible for bringing forward their own cases under the new system, CLAS responded by creating a new Human Rights Clinic. Since then, the Clinic has provided free assistance to individuals who have submitted a complaint to the Human Rights Tribunal.
Allard Law alum Laura Track (LLB '06) is the Clinic Director and Director of Education at CLAS's Human Rights Clinic. As part of her role, Track leads the Clinic's team of  lawyers and legal advocates, represents clients and offers educational workshops for the general public and anyone who has specific duties and obligations under the Human Rights Code – such as employers and landlords.
While her team supports a large volume of clients – hundreds of people receive legal information, advocacy, advice and representation from Clinic lawyers and advocates each year – Track describes the Clinic's services as a "drop in the bucket."
In BC, the need for free and accessible legal representation consistently goes beyond their available resources, which Track says "emphasizes the need for more lawyers, legal advocates, and law students trained and supported to do this work.
Until recently, there was one particularly notable gap in the services the Clinic was able to provide: before qualifying for legal representation, individuals first had to draft their own complaints. The Clinic's official mandate kicks in only once someone has filed a complaint with the BC Human Rights Tribunal and the Tribunal has accepted the complaint.
"For folks with disabilities, low literacy, lack of access to computers, non-native English speakers, and others who face barriers to written communication, filling out an 18-page complaint form is incredibly daunting and can prevent people who've experienced discrimination from seeking accountability for the violation of their rights," Track explains.
Now, the Clinic is able to help meet this need through the Human Rights Complaint Drafting Project. Launched in May 2022, the Project brings together over a dozen volunteer law students from each of the law schools in BC to help individuals with drafting human rights complaints. Before students meet their first client, Track teaches students interview techniques and how to write effective, accurate complaints. Once students begin receiving client referrals and drafting complaints, Track or another lawyer reviews each of the drafts before they are sent to clients for filing with the Tribunal.
Allard Law students Eleanor Aston and Sarah Bott are among the student volunteers who are working with the Project. They both say they were motivated to volunteer to support clients who otherwise wouldn't have had access to help in drafting their initial human rights complaints. Both students were placed with the Clinic through the UBC Chapter of Pro Bono Students Canada.
"It has meant a lot to me to feel like I'm helping to address a gap that impacts a lot of marginalized communities and their ability to access to justice," says Aston. She says her role with the Project has also given her the opportunity to develop her client and volunteer management skills and trauma-informed interviewing skills, and that she's "pick[ed] up just a huge amount about the intricacies of human rights complaints in BC."
Track similarly first found herself drawn to the practice of human rights law for the opportunity to help people navigate difficult situations and complex legal processes. "Human rights is a rich and fascinating area of law, and one of the things I love about my job is that I'm always learning," she says.
When asked about the advice she would give to law students who are passionate about human rights and who may want a career in the field, Track stresses that any opportunity to gain experience with clients and exposure to human rights matters is valuable.
Volunteering with initiatives such as the Human Rights Complaint Drafting Project and getting involved with law school clinics and programs like Pro Bono Students Canada, the Law Students' Legal Advice Program and the Indigenous Community Legal Clinic at Allard Law can provide insight into the field and meaningful experience supporting clients.
Current law students who are interested in opportunities to volunteer with the Human Rights Complaint Drafting Project or with similar projects can keep an eye out for volunteer postings on Pro Bono Students Canada UBC's website later this summer.
---
Allard School of Law

Alumni & External Relations