Nancy Scott on her path from Allard Law to VP at Cisco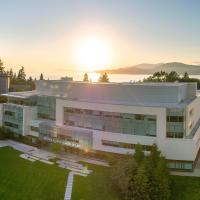 Nov 8, 2023
Nancy Scott always knew she wanted an international career. After completing her law degree at Allard Law and a year of practicing law in Vancouver, she found herself wanting to try something new. "The more international the environment, the more I thrive, and that's why I wanted to move to London," says Scott.
Today, Nancy is the Senior Vice President, Legal & Deputy General Counsel at Cisco Systems, where she leads a large international team of 180 legal professionals. Earlier in her career, Nancy worked in private practice in London and Brussels and has since held several senior in-house positions in Europe, mainly in the technology sector, including Vice President, Global Commercial Law, Avaya Inc and Vice President, International and Commercial Law, VMware Inc.
Now after a decades-long career overseas, Nancy is returning to Canada to continue her position with Cisco.
We spoke with Nancy about her international career, her current role at Cisco and the importance of mentorship.
Why did you decide to pursue a legal career?
Becoming a lawyer was not my first career choice. I wanted to become a diplomat and studied international relations for my master's degree at the University of Toronto. But I realized languages were not my forte, and becoming a diplomat didn't necessarily align with the vision I had of my career. In particular, I thought it might be a bit too bureaucratic and restrictive and thought I would thrive in a more commercial environment. After some reflection, I realized that a legal career would be closer to this vision. 
The good thing about Canadian legal education is that you have to study for a few years before applying to law school, and this allowed me to rely on my history and political science background to help inform the right career path for me. 
What is your favourite memory of law school?
The first day of law school – the excitement of starting a new adventure and being excited about learning something new. Looking back, I enjoyed the different perspectives the professors brought into the classroom as well, and it really made me think about the world in a different way. I always say law school gave me a good framework for life. 
Throughout your career, you have lived in Italy, UK, US, and Belgium. What drives you to relocate for different positions? 
Having an international career is a dream come true. When I finished law school, I knew I wanted to build my career in London or New York and sought international work during my articles in Vancouver. But I decided it was best to move to London after a year of working as an associate in Vancouver. London has a dynamic, multicultural, and fast-paced legal market, and I knew it was the perfect fit for me. 
Why did you decide to leave private practice and work in-house? 
I found a commercial environment to be more aligned with my interests than working at a law firm, though my time in private practice was great preparation for my work in-house. 
I wanted to feel like part of the business and see all elements that go into running a business, and working in-house offered just that. 
You are currently the Senior Vice President and Deputy General Counsel at Cisco. What does a typical workday look like for you? 
I lead a group of 180 legal professionals around the globe, and a lot of my time is spent on managing the team, performance management, and career development.
My position requires me to lead strategically, which entails formulating policies and giving business solutions to business problems. It is very exciting to be part of a fast-paced technology company and we are very fortunate in the in-house legal team to see all aspects. Working within a global context, I rarely practice law per se, as I wouldn't know the laws in different jurisdictions, and this is when I rely on my team's knowledge and expertise in markets around the world. 
Would you say you have a good level of work-life balance in your position? What do you like to do in your free time?
In a senior position, it's difficult to fully switch off, especially in a global role.  It's vitally important to know yourself well and know what you need to stay healthy and fit, from a physical and mental health perspective. Put your own mask on first as flight attendants like to remind us! When I have free time, I love spending time with my daughter, try to stay fit being outdoors, and love riding my horse. 
You regularly mentor and coach women in technology roles. What does mentorship mean to you, and why do think it's important?
It's extremely important, and I try to mentor those who need my support more than others, such as those earlier in career or who just face more barriers to advancement as the law can be a very hierarchical and privileged place. Mentorship is of course very much mentee-led, and I try to give an extra voice to my mentees as they navigate their career aspirations as their sponsor. I view mentorship as a personal way to make an impact on DEI as women, people of colour and other groups continue to be very underrepresented in the tech industry, as well as within legal at a senior level. 
How have you benefitted from mentorship yourself?
I have been blessed with several very important mentors in my life. My very first mentor was a professor of mine at the University of Toronto, and we continue to have a relationship to this day. He has taught me the importance of looking at the world through other lenses and to question boundaries we often instinctively set in our expectations of career or self. He has taught me the importance of listening. I think lawyers can do a better job of this myself – it is taught as a critical skill but I don't see it in practice as much as we should – and to always try to make time for others. That is what I try to do when I take on mentees. 
You're soon moving back to Canada for your position with Cisco. What are you going to miss most about living in the UK? 
My daughter. She is staying in the UK to start university. I will also miss the nature in Warwickshire, where I've been for the past year. It has the typical British rural scene, with green fields, tons of sheep everywhere and a great pub nearby.
What advice do you have for current law students at Allard Law? 
Try not to take yourself seriously and have some fun along the way. The time will go by fast. It is a very time-consuming degree – so much reading! – so make sure to take care of yourself along the way too.
Allard Law alum Nancy Scott (LLB 1992) is the Senior Vice President, Legal & Deputy General Counsel at Cisco Systems.
---
Allard School of Law

Alumni & External Relations