Meet Drew Yewchuk: Inaugural recipient of the W. Wesley Pue Memorial Scholarship in Law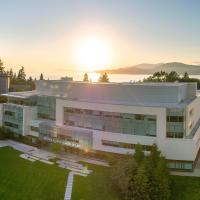 Aug 22, 2023
Before beginning his LLM at Allard Law, Drew Yewchuk spent four years working as a public interest lawyer in Calgary – during which time he experienced repeated delays and setbacks while trying to access government records about wildlife protection and other environmental issues through Access to Information requests.
Through his LLM research at Allard, Drew hopes to better understand why the legal system is not more democratic and transparent – and how that might change.
Drew is also the inaugural recipient of the W. Wesley Pue Memorial Scholarship in Law, created in honour of Professor W. Wesley Pue. Wes is fondly remembered by the law school community for both his generosity and enthusiasm and for his many academic contributions as one of Canada's foremost legal historians. Like Wes, Drew's research also takes into account Canadian legal history and the Americanization of Canada's legal system.
Drew took the time to discuss his research and what it meant to him to receive the W. Wesley Pue Memorial Scholarship in Law.
What does receiving this award mean to you, knowing the profound impact Professor Wesley Pue had on the law school community and the legal profession?
Receiving the W. Wesley Pue Memorial Scholarship in Law was bittersweet – a grad student can always use funds, especially in Vancouver. But the downside to a memorial award is, of course, that it means you arrived at Allard too late to learn from the scholar it is named for. I would have benefitted from Wesley Pue's instruction, as he worked on international Americanization and legal history – two topics my thesis engages with. But the award prompted me to read Wesley Pue's writing. Being a scholar, he left an impressive supply of material – I particularly recommend his 2001 piece Globalisation and Legal Education: Views from the Outside-In.
Before returning to Allard Law, you were working as a staff lawyer with the University of Calgary's Public Interest Law Clinic. What motivated you to come to Allard Law to pursue your LLM?
I had big questions about the legal system after my time in public interest law.
The first was why slippage, the separation of the law as written and the law as enforced, is so severe in environmental law. The second is why the Canadian government is so secretive. There was never enough time in practice for the extensive research needed, so the LLM program was the opportunity to find answers. I picked Allard because it has a great reputation in the areas I work on: environmental protection law and legal theory.
Tell us about a highlight from your time at Allard Law so far.
A highlight is being pushed to reconsider a wide range of legal theory. One of the required courses under the LLM covered post-colonial theory, something I initially thought was pretty far outside my research area. But it turns out there is a very strong connection: Canada's British imperial past is at the root of government secrecy in Canada. The British traditions of cabinet confidentiality means cabinet makes decisions by balancing policy considerations in secret and no Cabinet member can reveal the discussions to the public – tradition requires them to pretend they all agreed on the decision. Then Cabinet prepares an official explanation for their decision that they give to the public. Often the public does not even know the facts Cabinet used in coming to their decision.
You're currently working on your LLM thesis, which documents how challenging it can be to access government records about decisions that impact the survival of endangered species. What have you learned so far through this research?
Canada's approach to access to information and democratic oversight has never been good. The Canadian system of government is modelled after the system used by the British Empire, and that includes tight information control by an elitist government rather than democratic transparency.
One way to frame the history of Canadian law is a struggle to shift away from a legal system built for British Imperialism to a legal system built for a democratic society. The movement for truth and reconciliation by Indigenous nations is the clearest example of the struggle to face the Canadian legal system's imperial history. Canadian law was designed to fit the social context of colonialism, so that same struggle to address the legacy of empire is present in most areas of Canadian law: resource extraction, environmental protection, and government secrecy are just examples.
Canadians will also be annoyed to hear that Canada's approach to endangered species law is significantly worse than in the United States. Our Species at Risk Act was written as a watered-down version of the American Endangered Species Act and it's full of holes. We're going to lose a lot more species during the era of climate change unless major improvements are made very soon.
Most provinces don't have laws to protect habitat for their species at risk and they resist federal intervention to protect their species at risk, as is happening with the Mountain Caribou and the Spotted Owl. Each province needs its own law to protect habitat for species at risk.
What do you hope the impact of your research will be?
Scholars and journalists have been pushing for improvements to government transparency for 40 or 50 years and I plan to join them. I hope I can attract a broader range of academics, and particularly law professors, to litigating issues under the Access to Information Act. Law professors diligently litigating Access to Information Act cases could play an important role in bringing transparency to Canadian governance.
It can sound a bit naïve, given how long people have been saying it, but I believe transparency would get better government for Canadians.
---