Canada's Single Use Plastic Ban is only a Small Step in the Right Direction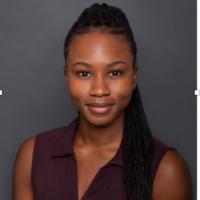 Simi Fagbongbe
Allard JD Candidate 2024
Feb 13, 2023
Only 9 percent of the 3.3 million tonnes of plastic waste generated by the Canadian economy every year is recycled. The vast majority of plastics end up in landfills, while about 29,000 tonnes find their way into the natural environment. So pervasive is plastic pollution that the United Nations identified it as the second most ominous threat to the global environment after climate change. These sobering facts give context to why "recycle" is deservedly last in the 3R's of waste management.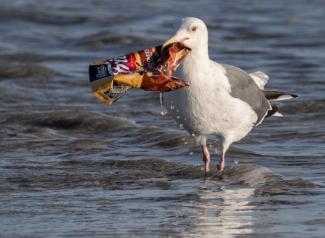 Promulgated in May 2022, the Single-use Plastics Prohibition Regulations are the Canadian government's response to the plastic problem. The Regulations prohibit the manufacture, import, and sale of six categories of single-use plastics: checkout bags, straws, stir sticks, six-pack rings, cutlery and foodservice ware made from hard to recycle plastics, with certain exceptions for people with disabilities. The items were selected based on evidence that they are commonly found in the environment, are harmful to wildlife and their habitat, are not often recycled, and have readily available alternatives.
The Regulations are part of the Canadian Government's overall plan to achieve the goal of zero plastic waste by 2030 while protecting Canada's wildlife and waters, reducing greenhouse gas emissions and creating jobs. Over the next 10 years, the ban will result in elimination of more than 1.3 million tonnes of plastic waste that is hard to recycle, and more than 22,000 tonnes of plastic pollution.
Reception of the Regulations
Canadians strongly support the government's regulatory approach, with a recent poll showing that two-thirds of Canadians support expanding the ban to include drink cups, cigarette filters, and all forms of polystyrene (Styrofoam), which are common culprits found in litter. Provinces and municipalities across the country have heeded the public's call, developing and approving bylaws to implement bans earlier than the timelines established in the Regulations. Vancouver, for example, began banning targeted items on January 1, 2020.
While environmental groups have celebrated the government's move as a critical first step and significant milestone, they do not think the Regulations go far enough to meaningfully address plastic pollution. They nevertheless support the Regulations against push back from the plastic manufacturing industry. In 2021 and 2022, more than two dozen plastic manufacturers, united as the "Responsible Plastic Use Coalition," filed two lawsuits in Federal Court to overturn the designation of plastics as "toxic" under the Canadian Environmental Protection Act (CEPA) and to revoke the ban and prevent its implementation in the meantime. Environmental Defence, EcoJustice, and Oceana Canada applied to intervene, condemning the plastic industry's agenda as out of step with science and public opinion.
Strengths and Weaknesses of the Government's Approach
Even with large gaps in the Regulations, regulating plastics is a good thing. In fact, the Regulations' focus on the low-hanging fruit might actually be a strength because the prevalence of alternatives, wide public support and strong scientific evidence demonstrating the targeted items' harmful effects on the environment increase the likelihood that the Regulations will withstand challenges.
The problem with the government's approach, however, is that the potential benefits of the Regulations are almost negligible. By Environment Minister Jonathan Wilkinson's own admission, the ban captures only one percent of Canada's plastic waste. According to Ocean Wise Shoreline Cleanup data, of the targeted items, only plastic bags and straws are included in the 2021 dirty dozen – the most commonly found litter items in Canada.
Even then, those items account for a mere 6.5 percent of the total waste. With Canada's plastic use projected to increase by 30 per cent by 2030, the reality of the situation is that any resulting reductions from the ban will be almost immediately overtaken.
Another weakness of the Regulations is that selecting prohibited items based on readily available alternatives – often also single-use items or more durable plastics – may lead to unintended environmental consequences. For instance, under the ban, stores may provide paper bags or reusable bags as alternatives for a fee. While switching to paper bags may reduce plastic pollution, the production process has greater a carbon footprint than that of plastic bags. Further, paper bag production has environmental implications for forests, land use and air quality.
Reusable bags are also not without impacts. Nothing in the Regulations prevents the sale of reusable bags made of polystyrene (a plastic). Moreover, according to a British study conducted in 2011, a cotton tote bag would have to be used well over 100 times before it was better for the environment than the single use of a plastic grocery bag.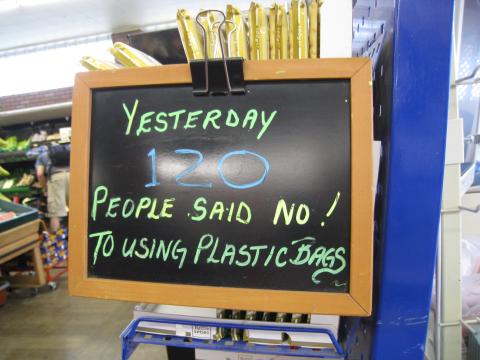 Still, the government's willingness to reassess, re-evaluate and expand the ban in the future sends a signal that the current iteration is only the beginning, which may very well spur Canadian manufacturers of items not currently included in the ban to innovate for environmentally sound substitutes in anticipation of further regulation.
How the federal government's approach will be adjusted to align more effectively with its ambitious goal of a zero plastic waste future remains to be seen. What is clear now is that Canada is failing to reach its 2030 timeline. Barring the exceptional circumstance of the COVID-19 pandemic, which significantly contributed to the amount of waste generated due to the use of personal protective equipment and increased reliance on deliveries, Environmental Defence attributes the failure to the government's misplaced reliance on improving collection and recycling.
Shifting the Focus to Reduce and Reuse
Tackling plastics is welcome and long overdue but it fails to strike at the overproduction and overconsumption at the root of Canada's waste problem. Numerous studies and statistics consistently implicate Canada as one of the worst nations globally with amongst the highest average per capita waste generation. "When people think their stuff is being recycled, it clears their conscience, no matter what is actually happening beyond the blue box", says Myra Hird, a professor at Queen's University school of environmental studies, specializing in waste management. "Our research shows that when their conscience is clear they tend to consume more than ever."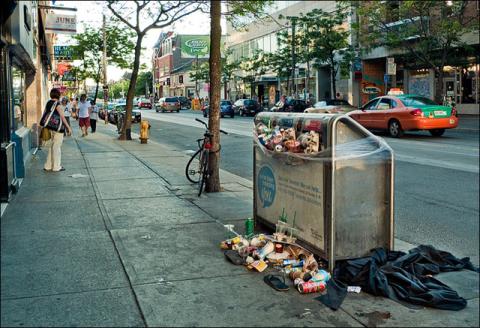 Evidently, the current plastic ban and recycling-forward approach distort the reality of our overall pollution crisis. What is needed is behavioural change and a cultural shift away from all single-use items. This must be led by strong government policies. For one, the government should heed Oceana Canada's recommendation to expand the Regulations to include, at a minimum, coffee cups and lids, and items that have already been banned in other jurisdictions such as plastic-stemmed cotton buds, plastic cartons for eggs and produce, and lightweight produce bags.
Under the Regulations, substitution costs are expected, but not required, to be passed onto consumers. In Vancouver, minimum fees are mandated for single-use substitutes, and businesses keep the fees. A possible reassessment of the Regulations could mandate substitution fees and require businesses to invest in reusable infrastructure like that of a Tim Hortons pilot program that offers reusable cups and food packaging for a deposit. A recent international study suggests that public awareness and an expectation that businesses will offer alternatives to disposables can effect behavioural change in consumers.
Finally, the government should focus on dramatically reducing plastic production and all single-use materials by developing policies that incentivize better product design, ensuring a more circular use of product and component materials. Continuing to improve collection and recycling will then ensure that the items produced can be recycled and virgin fossil fuel resources are used only when necessary.
---
Centre for Law and the Environment