Allard Law alum Andrea Menard on Indigenizing, decolonizing and genuine reconciliation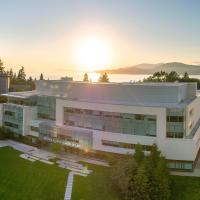 Jul 11, 2023
Andrea Menard (LLB '04) has dedicated her career to working towards a better, fairer and reconciled future. In 2022, she was named one of Canadian Lawyer Magazine's Top 25 Most Influential Lawyers for her work as an educator who is focused on shedding light on the impact of colonization and systemic discrimination. Recently, Menard was also recognized as one of CIO Magazine's Top 5 Most Influential Lawyers. 
A Métis scholar, with roots in the Red River Settlement on Treaty 1 territory in Manitoba, Menard is the Lead Educational Developer at the University of Alberta, the co-founder and co-chair of the Indigenous Lawyers' Forum of CBA Alberta, and president, director and owner of Indigenous Connect. Currently working toward her PhD at Royal Roads University, Menard earned her Bachelor of Laws at the Peter A. Allard School of Law in 2004 and her Masters of Law from Osgoode Law School in 2020.
Here, Menard shares her experience teaching students, professors and senior leadership about the meaning of reconciliation, where things need to change, and what brings her hope for the future.
 
Why did you decide to pursue a career in law?
Systems change! I saw and experienced a lot growing up between two worlds as a Métis person. I witnessed the injustices Indigenous people faced daily. I grew up in Prince George, BC, the unceded traditional territory of the Lheidli T'enneh First Nation, part of the Dakelh (Carrier) peoples' territory, so I was close to the impacts and consequences of the Indian Act, residential schools, and resource extraction on Indigenous lands. I also saw firsthand the violence, poverty, and societal imbalances that colonialism has historically dished out and continues to do so today. Therefore, I wanted to reach 'the top' in order to enact change - and that meant pursuing a career in law.
 
How has your experience as a Métis person shaped your experience in the legal field?
I constantly live between two worlds. I have a Métis lens and a Eurocentic lens, with which I have to continually contend. In this age of reconciliation, the battle still rages, between these two opposite worldviews both internally within each person, and externally with systems and structures. It seems no significant work has been done. Organizations and law firms tell me they don't know how to change. There are small steps taken here and there, but overall, I see little progress. Perhaps this is because Indigenous people are seldom admitted into the profession, and now, organizations face the consequences of not knowing how to move forward ethically.
 
Although in recent years there has been an increase in the representation of Indigenous peoples in the legal profession, they continue to face many barriers. As a Métis legal professional with lived experiences as an Indigenous student, lawyer, and instructor, what do you think are some of the major barriers to increasing Indigenous representation in the legal field?
I have firsthand experience with barriers! From my time as an Indigenous law student (2001-2004), struggling to find articles, enduring horrendous articles, lacking role models, facing extreme barriers with the bar exam, and trying to find my place in the legal profession, I've seen it all. The system simply doesn't work for the majority of Indigenous peoples. Why? Because the profession does not know how to practice reconciliation properly. Many are still in a phase of wilful blindness.
I am astounded when I hear phrases like, "you are not a good fit for the practice of law" or "they just wouldn't be a good fit in our culture here." Such comments should ring alarm bells, yet these individuals think they are doing us a "favour" by keeping us out of the profession.
Now, I've made it my mandate to assist any Indigenous law student, law grad or articling student, and to help law schools, law firms and legal organizations decrease barriers by encouraging self-reflection and discouraging projection. It is the reason why I co-founded the Indigenous Lawyers' Forum. We are a group of seven matriarch lawyers from diverse Indigenous nations with a strong foothold in distinct legal arenas who joined forces. This initiative was spurred by our shared ambition to Indigenize and decolonize the extant legal structures and practises that have dominated the legal system for centuries. But the Forum's vision doesn't stop there.
Recognizing the imperative to nurture the next generation of Indigenous legal professionals, we are committed to providing mentorship and support to fellow Indigenous lawyers, newly minted law graduates, and law students, empowering them to contribute towards this ground breaking reform in the law. It started off in Alberta, but it is national now. Indigenous lawyers and students come from all over to join our Virtual Tea and Bannock sessions we hold each month where we share knowledge, update each other on our practices, and problem solve how to reform current law.
What has been the highlight of your experience working with law students as a sessional instructor?
I derive great satisfaction from observing students as they learn to 'flip the script' and critically reflect on what is being taught to them. This is especially true in contexts where law is taught without reconciliation, trauma-informed teaching or an ethical space being created that allows them to stay true to themselves, no matter who they are or where they come from.
Simply parroting colonial law for three years becomes devoid of any real significance for future generations. Thus, we practice dismantling colonialism, we reassess the ways we interact with each other, and we strive towards rediscovering our truly authentic selves as a crucial part of practicing reconciliation. Seeing the students' eyes light up and showing them the potential of a brighter future that incorporates these principles is, indeed, the greatest gift.
 
What does your position as a Lead Educational Developer of Indigenizing Curricula and Pedagogies at the University of Alberta entail? What do you like to see changed in the Canadian education system to better reflect Canada's true history and culture?
I teach professors how to Indigenize, decolonize and practice reconciliation. While it may sound straightforward, it's a challenging process. It isn't simply a matter of attending a single workshop. To truly practice reconciliation requires consistent dedication to learning, unlearning, and relearning everything one has ever known. I'd like to see more commitment to reconciliation in the workplace.
For me to operate at optimal capacity, I need support rather than interference. People need to trust Indigenous peoples, acknowledging that we are knowledgeable and have our own unique ways of doing things. These may differ from mainstream approaches and might make some people uncomfortable - they have to understand that this is their issue, not ours. They must learn not to hinder progress. Their well-intentioned attempts to 'help' often get in the way. What they need to do is listen, trust the process, and overcome their fears.
To many non-Indigenous people, this process might seem like 'risk-taking', but in reality, it is about decolonizing, Indigenizing and practicing reconciliation. The children who endured unspeakable abuses in residential schools did not survive and make the Truth and Reconciliation Commission's Calls to Action for all Canadians just to be told, 'It is too risky.' It's time we all listened to the Calls to Action and started working collectively as a society to implement them.
Lastly, while the education system requires significant work, that is where I see the most hope and flexibility. It is in this sphere that we have the greatest potential for disseminating the message and instigating change for all levels of society further on down the road.
 
What advice do you have for law students interested in working with Indigenous communities?
Recognition of Indigenous law offers possibilities for significant innovation and the development of laws and concepts never before seen, which could benefit all of society, regardless of who we are or where we come from.
Navigating two worlds is challenging. However, I encourage all students to practice humility and think as creatively and 'outside the box' as possible. This is crucial as you strive to weave Indigenous laws into common laws or as you work to extract colonial laws and incorporate Indigenous laws solely. Much like any other area in law, learning how to incorporate Indigenous laws will take years. However, it is essential to remain humble, allow Indigenous nations to lead, and demonstrate respect. It's not solely about cultural competence; it's about serving as a translator between two worlds, advocating for one while the other attempts to suppress it.
 
What's your favourite memory as a student at Allard Law?
My favorite memories are from my first-year cohort. Over the three years we spent together, figuring things out, we all got along and grew close. Looking back on law school, it has been an incredible journey full of steep cliffs and deep dives as I created my own sense of self and own ways of practising on this road.
I'm grateful that Indigenous people of the past advocated for Indigenous space, paving the way for me to enter. I can only imagine the uphill battle they faced to achieve this. That's why I hold immense gratitude for Indigenous communities, laws and ways of life. We are an unstoppable force, and good things transpire because of our collective efforts. Believe in it.
 
What does reconciliation mean to you and what role does the legal profession play in advancing reconciliation?
Reconciliation is a transformative process that encompasses decolonization, Indigenization, the creation of ethical spaces, and acknowledgment of settler accountability. It necessitates a fundamental shift in values, practices and decision-making structures, underscoring the need for a genuine commitment at all organizational levels. The path toward reconciliation is complex and challenging, yet it represents an essential step toward justice, equity and respectful co-existence that acknowledges and honors Indigenous cultures, histories, laws and rights. By embracing reconciliation, everyone can contribute to building a more inclusive, respectful and equitable society. The Call to Action I propose is as follows:
Understand that reconciliation is more than just a concept; it is an urgent call to reshape our workplaces and societies. It challenges each of us to participate in a profound transformation that is long overdue. It's time for organizations across settler societies to confront their history and actively participate in the processes of decolonization and Indigenization.
I urge all organizational leaders, decision-makers and employees to engage in this transformative journey. Begin by examining your practices and policies to dismantle any structures that perpetuate systemic inequalities. Encourage conversations about our shared history and develop an understanding of the rights, traditions and histories of Indigenous peoples.
Ensure that your organizational structures and practices incorporate and respect Indigenous knowledges and cultures local to the area, moving beyond symbolic gestures to meaningful representation. Understand the impact of trauma on Indigenous peoples and incorporate trauma-informed approaches to create a supportive and empathetic workplace.
Create ethical spaces for dialogue, where Indigenous and non-Indigenous perspectives can be shared and valued, fostering mutual understanding and respect. Recognize your responsibilities as part of a settler society, acknowledge the injustices committed, and take steps to rectify them.
Embark on this journey of reconciliation with sincerity and commitment. Make it an essential part of your mission and vision. Only by actively embracing reconciliation can we build a more inclusive, respectful and equitable society. Remember, every step you take toward reconciliation is a step toward healing, unity and shared prosperity.
The time to act is now. Let's work together for a better, fairer and reconciled future.
---
Allard School of Law

Alumni & External Relations