Congratulations to Allard Law's Immigration, Refugee and Citizenship Law Moot Team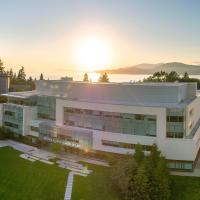 Apr 1, 2021
Held virtually this year, the inaugural bilingual Immigration, Refugee, and Citizenship Law Moot constitutes Canada's first ever moot in this area of law. The Peter A. Allard School of Law team rose to the occasion, winning Top Law School and Best Factums awards during the event, held over March 11 and 12. 
 
The 2020/21 Allard Law team consisted of students Paul Van Benthem (2L) and Karen Jantzen (3L) as the appellants, and Yan Wang (3L) and Simran Hothi (2L) as the respondents. Wang and Hothi were the competition's top respondent team, making it to the final round, and Hothi placed second for Best Oralist. 
This year's moot problem involved an appeal of a judicial review of an immigration law case. Participants tackled the complex topic of inadmissibility on the grounds of membership in an organization found to have engaged in subversion of a government by force. The moot involved two preliminary rounds on the first day and semi-finals and final round were held on the second day. Serving as judges in the moot competition were several Federal Court justices and senior lawyers from the Department of Justice, non-profit organizations, and private practice.
Thank you to all who helped contribute to the success of Allard Law's team in this year's moot. Molly Joeck, a PhD student and experienced immigration lawyer, coached the team, and Professors Efrat Arbel and Asha Kaushal were faculty consultants. Additionally, several other Allard Law faculty members, numerous Vancouver immigration lawyers, and a BC Superior Court judge kindly volunteered their time and efforts in guiding the students along the way. 
The Immigration, Refugee and Citizenship Law Moot adds to the 14 moots in which the law schools currently participates regularly, among the many opportunities Allard Law offers in its Experiential Learning opportunities. 
 
---