THE TIME IS NOW: Canadian and Global Recognition of the Right to a Healthy Environment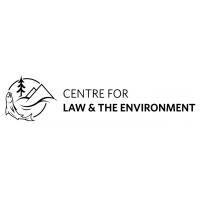 Centre for the Law and the Environment Assistant
Dec 11, 2020
Date: January 26, 2021, 5 - 7 pm PST | 8 - 10 EST (Virtual)
QUALIFIED FOR 2 CPD CREDITS
What can our governments do to address the impacts of the global environmental crisis on our lives?
Join us for a public talk by Dr. David R. Boyd, UN Special Rapporteur, on the urgent need for the legal recognition and implementation of the human right to a healthy environment. While already recognized in the majority of countries, this right is not yet protected by national laws in Canada, the United States, the United Kingdom or Japan. These countries are home to many environmentally damaging industries and are key contributors to the climate emergency, with effects that transcend domestic and international borders. Existing environmental laws are inadequate to effectively protect human and environmental health, highlighting the need for the right to a healthy environment to serve as a catalyst for rapid, systemic and transformative changes.

Opening remarks will be made by Annamie Paul, leader of the Green Party of Canada, and Dr. Boyd will be introduced by Dr. David Suzuki, scientist and co-founder of the David Suzuki Foundation.
About the Speakers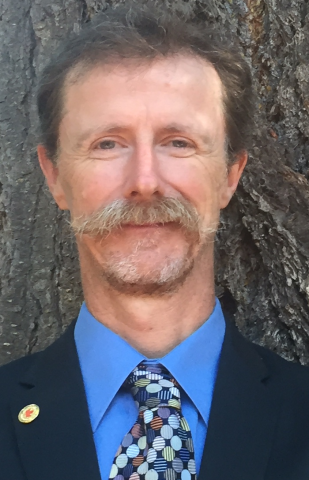 David R. Boyd is the UN Special Rapporteur on human rights and the environment and an associate professor of law, policy, and sustainability at the University of British Columbia, jointly appointed at the Institute for Resources, Environment and Sustainability and the School of Public Policy and Global Affairs. 
Boyd is also the author of ten books and over 100 reports and articles on environmental law and policy, human rights, and constitutional law. His books include Thirst for Justice (2020), The Rights of Nature (2017), The Optimistic Environmentalist (2015), and The Environmental Rights Revolution (UBC Press, 2012).
He lives on Pender Island with his partner and their daughter, and loves to run, hike, kayak and cycle!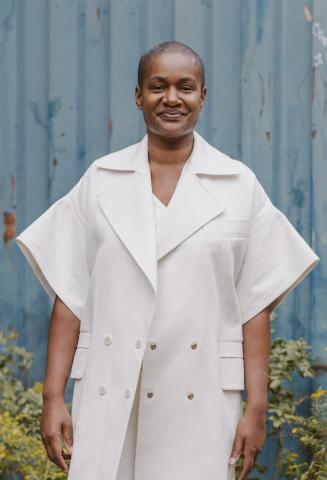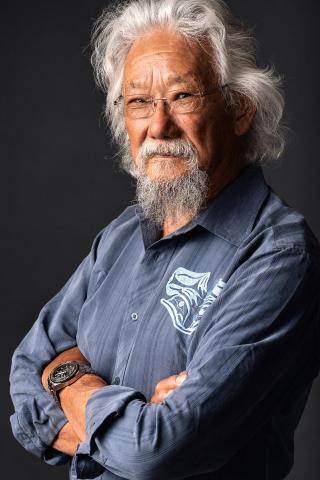 Dr. David Suzuki is a scientist, broadcaster, author, and co-founder of the David Suzuki Foundation. He is Companion to the Order of Canada and a recipient of UNESCO's Kalinga Prize for science, the United Nations Environment Program medal, the 2012 Inamori Ethics Prize, the 2009 Right Livelihood Award, and UNEP's Global 500. Dr. Suzuki is Professor Emeritus at the University of British Columbia in Vancouver and holds 29 honorary degrees from universities around the world. He is familiar to television audiences as host of the CBC science and natural history television series The Nature of Things, and to radio audiences as the original host of CBC Radio's Quirks and Quarks, as well as the acclaimed series It's a Matter of Survival and From Naked Ape to Superspecies. In 1990 he co-founded with Dr. Tara Cullis, The David Suzuki Foundation to "collaborate with Canadians from all walks of life including government and business, to conserve our environment and find solutions that will create a sustainable Canada through science-based research, education and policy work."  His written work includes more than 55 books, 19 of them for children. Dr. Suzuki lives with his wife and family in Vancouver, B.C.
Read more here.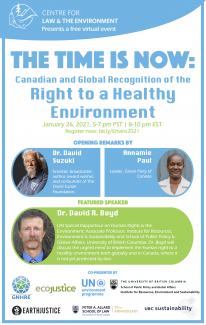 This Centre for Law & the Environment event is co-sponsored by:

The UBC Sustainability Initiative
UBC Institute for Resources, Environment, and Sustainability
UBC School of Public Policy and Global Affairs
United Nations Environment Programme
Ecojustice
Earthjustice
Global Network for Human Rights and Environment
Peter A. Allard School of Law (UBC)
---
General Audience

Academics

Community & Culture

Centre for Law and the Environment