Graduate Student Profile: Elspeth Kaiser-Derrick
Graduate Student Profile: Elspeth Kaiser-Derrick
Jun 9, 2020
This blog post is part of a series featuring graduate students affiliated with the Centre for Feminist Legal Studies to highlight their outstanding work in the feminist legal community.
---
Elspeth Kaiser-Derrick, Ph.D. Candidate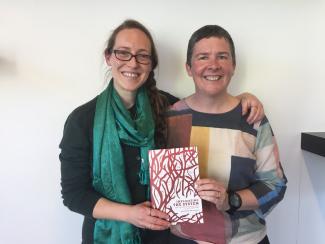 At our 2019 Celebration of Feminist Research Lunch, the CFLS featured the launch of a brand new book by Ph.D. candidate Elspeth Kaiser-Derrick, "Implicating the System: Judicial Discourses in the Sentencing of Indigenous Women" (University of Manitoba Press, 2019).
In her book, Elspeth problematizes judicial reasoning that characterizes alternative sentencing options, such as conditional sentencing and prison sanctions, as forms of healing, as it is often unavailable to many Indigenous women.
On March 19, 2019, feminist faculty and students came together over the lunch hour to hear Elspeth read from her book, and hard copies of this timely and important work were available for sale and provided by the UBC Bookstore.
Elspeth has also been involved with the CFLS in other ways. On January 19, 2018, she presented her work at the Roundtable of Allard Law Graduate Students: Feminist Legal Research in Progress. During the roundtable, she spoke about the increase in incarceration of Indigenous women despite legislative changes and judicial attempts to address this issue, such as s. 718.2(e) of the Criminal Code, which requires judges to consider alternatives to imprisonment for Indigenous persons where appropriate, and the Gladue case, which directs judges to consider multiple contextual factors when interpreting s. 718.2(e). 
Elspeth describes her use of the victimization-criminalization continuum in assessing sentencing decisions involving Indigenous women, but cautions that the use of feminist methods can be problematic when applied to systems that are not themselves feminist, meaning institutions that do not have feminist mandates or practices such as the criminal justice system. She cites research involving feminist methods used in the prison context, such as the idea of "women-centred corrections" in the 1990s, which in many ways produced further harm to incarcerated women. By highlighting this issue, she hopes that "such concerns only serve to try to inspire feminist work that is resistant to being absorbed and misappropriated in this way."
In her work, Elspeth emphasizes the need for contextual analyses in sentencing. By using the victimization-criminalization continuum, she aims to highlight how incarceration is particularly detrimental to Indigenous women, and that the s. 718.2(e) sentencing analysis should incorporate broader impacts of colonization, not just individualized factors. During her talk, she also emphasizes that the victimization-criminalization continuum is not meant to be determinative, and recognizes Indigenous women's agency despite limited choices due to external, structural circumstances such as colonization. Elspeth concludes the talk by explaining that the focus of her research is not to focus on "Indigenous women in an individualized way, but instead on the system itself in terms of how judges were characterizing and ultimately sanctioning the the women."
The CFLS congratulates Elspeth on her incredible work and the publication of her book!
---
Centre for Feminist Legal Studies