Legends Begin by Allan Houser
This magnificent sculpture by Allan Houser was donated by Mr. Peter A. Allard, QC to commemorate the opening of Allard Hall on September 23, 2011.
This bronze figure is the work of Allan Houser, (1914 - 1994), recognized as one of the most important American (Chiricahua Apache) artists of the 20th Century.  Allan Houser dedicated his life to reflecting the cultural experience of Native America. He is renowned as a sculptor, painter, and teacher, and his work can be found in public and private collections around the world.  "Legends Begin" is not only a strong classical work of art, it is a compelling metaphor and reminder of how the transformative power of the process and learning of law can lead to a more just and equitable society for all.
Legends Begin can be viewed on the 4th floor terrace of Allard Hall. To learn more about Houser's legacy, click here to view a video produced by Oklahoma Education Television; and click here to view a video produced by New Mexico PBS.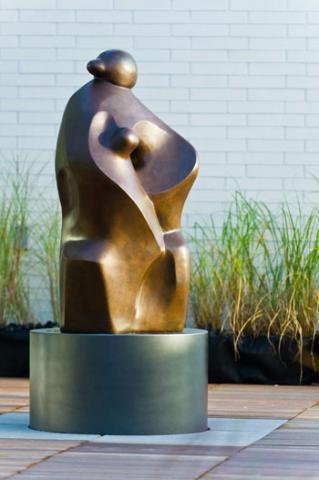 Works by Fred Herzog
This collection of Fred Herzog art pieces was donated by Mr. Peter A. Allard, QC Fred Herzog, (1930 - 2019), immigrated to Canada from Germany in 1953. He had become interested in photography as a young man in Germany, and shortly after he arrived in Vancouver, Herzog began taking photo graphs of the city. Professionally Herzog worked as a medical photographer, was the Associate  Director of the UBC Department of Biomedical Communication, and also taught at Simon Fraser University.
Herzog's images show the character of the people and scenes of Vancouver's urban landscape. He was not interested in posing his photographs, but rather in capturing moments in time of the working class and their connections to the city around them.  He worked primarily with slide film (mostly Kodachrome), which limited his ability to exhibit, and also marginalized him somewhat as an artist in the 1950s and 60s when most work was in Black and White. 
Herzog's work has received wider critical recognition and its value as a record of Vancouver's growth over a half-century has been hailed by both the artistic and heritage communities. 
Fred Herzog art pieces can be viewed on the main floor of Allard Hall. Click here to see the nine pieces that are currently in display in Allard Hall. To learn more about Herzog's legacy, click here to view a video about his work, produced by law alumnus Bijan Ahmadian.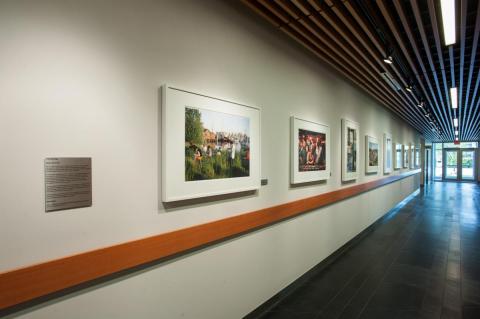 Ranch in the Fraser Valley by A.Y. Jackson, CMG, LLD
This painting was donated by T.J. Duckworth, OC and his wife in memory of the Class of '51.
Alexander Young Jackson, (1882 - 1974), was a Canadian painter and a founding member of the Group of Seven.  Jackson made a significant contribution to the development of art in Canada, and was successful in bringing together the artists of Montreal and Toronto. He exhibited with the Group of Seven from 1920. In addition to his work with the Group of Seven, his long career included serving as a war artist during World War I (1917 - 1919) and teaching at the Banff School of Fine Arts, from 1943 to 1949. In his later years he was artist-in-residence at the McMichael Gallery in Kleinberg, Ontario.
The Faculty thanks Mr. Peter A. Allard, QC for commissioning the reframing of this painting.
Ranch in the Fraser Valley can be viewed on the main floor of the Law Library in Allard Hall.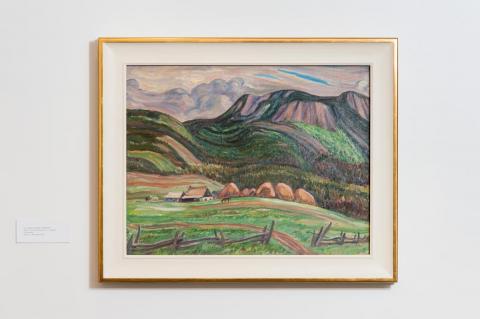 Heavenly Bodies, Stars & Moons by Gathie Falk
This piece was donated from the Collection of Mr. Roy L. Heenan, OC. 
Gathie Falk, CM, OBC, is a Canadian painter, sculptor, installation and performance artist based in Vancouver, British Columbia.
After studying art and education at UBC, Falk became an elementary schoolteacher, devoting her spare time to art.  In 1965, after a decade of teaching, she became a full-time artist, and had her first solo exhibition at a commercial gallery in Vancouver.
Since then, Falk has become one of Canada's most critically acclaimed artists.  Her work has been exhibited in group and solo exhibitions across Canada.  She was awarded the Gershon Iskowitz Prize in 1990, was made a Member of the Order of Canada in 1997, and in 2013 received the Audain Prize for Lifetime Achievement in the Visual Arts.
Heavenly Bodies can be viewed on the 3rd floor of the Law Library in Allard Hall.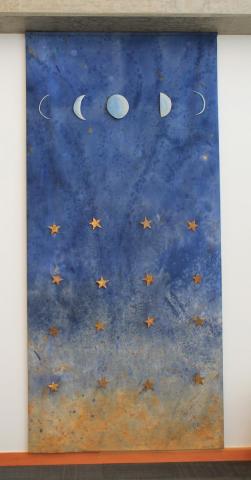 Portrait Sculpture of The Rt. Hon. Beverley McLachlin, P.C. by Keith R. Hamilton, QC
In 2004 the late Mr. James (Jim) P. Taylor, QC was on a committee that raised funds to commission a portrait sculpture of the Chief Justice to be displayed in the Supreme Court of Canada following her retirement.  There is a long-standing practice that the Bar of the Province from which the Chief Justice came commissions a portrait sculpture which is held in storage until the Chief Justice's retirement and then installed in the foyer of the Supreme Court of Canada.  In this case, two additional portrait sculptures were commissioned, one for the Law Courts in Vancouver, and the other for the law school. 
Mr. Keith Hamilton was commissioned in 2004 to create the bronze portrait sculpture of the Chief Justice.  Mr. Hamilton has special ties to the law school, as an alumnus of the graduating class of 1971 and as an adjunct professor.  In addition to a successful law practice and various contributions to the legal profession, Mr. Hamilton is an accomplished artist.  Beginning in his mid-50s, he took classes for two years in clay sculpting with Suzy Birstein, then three years of instruction in stone sculpting with Alberto Replanski.  He was accepted into the Studio Art Program at Capilano College for three years, directed by George Rammell.  He began to explore painting in 2017, studying with Efren Gonzalez in Ajijic, Mexico and Dene Croft in North Vancouver. 
Biographies of the former Chief Justice, Keith Hamilton, and Jim Taylor are profiled on the Allard School of Law's History Project. 
The portrait sculpture can be viewed on the 4th floor of Allard Hall.