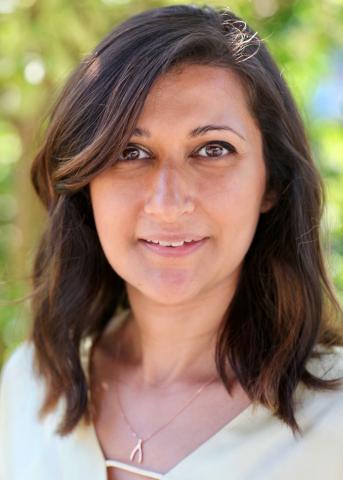 Juvarya Veltkamp is the Director of Canada Climate Law Initiative (CCLI) bringing 16 years of experience directly related to climate change, sustainable development and high performance buildings. Prior to joining CCLI, Juvarya provided oversight for the development of low-carbon economy projects and programs for the City of Vancouver, including climate-awareness and corporate education materials to accelerate the adoption of low-carbon solutions and help small and medium-sized businesses develop climate action plans.  
Why did you decide to join the Canada Climate Law Initiative?
I am passionate about sustainability.

As a child, my parents moved from England to a remote mountainous region of Saudi Arabia where we would visit Bedouin families living in the desert. I learned at an early age that societies can live at one with nature, and we can have enough to go around for everyone, if we can reduce our waste and allocate our resources fairly. This experience drove me to study economics and sustainable development, and think in terms of what has now come to be known as Doughnut economics. I am always looking for opportunities in the challenges we face, and I truly believe that business can and should be a force for good in the world, so I've spent the past 16 years working in the areas of climate change and green economy.
The Canada Climate Law Initiative (CCLI) is a truly remarkable initiative, with a critical message delivered at a very important point in time. We have just 9 years left to try and mitigate the most catastrophic effects of runaway climate change, while we are simultaneously trying to adapt rapidly to its early, disruptive impacts. We will need strong and capable leadership to navigate these tectonic shifts, and leaders of every type of organization must quickly become climate competent in order to step up to the challenge. I joined CCLI in order to bring resources, tools and know-how to the most senior business leaders so that they can provide effective oversight and help accelerate our response to this existential risk.
What do you enjoy most about your current position so far?
I am passionate about people.

While I am an economist at heart - and I love turning data into insights and insights into strategy - I have also learned that it is better to have a half-baked plan that brings on passionate partners working towards a common goal, than a perfect plan that nobody knows about. When creating a green economy plan for the City of Vancouver, I worked with advisors from academia, civil society, capital markets and industry to create a plan that the entire city could get on board with. I worked with colleagues from sustainability, planning, parks, engineering and transportation to deliver a plan that touched every aspect of city life. And we engaged with over 30,000 citizens, who contributed their ideas, energy and vision. I learned that people do want to help shape a better future, and nobody needs to be left behind.
CCLI's cornerstone program is our Canadian Climate Governance Experts initiative, which brings together 65 leading lawyers, accountants, economists, capital markets experts, and other subject matter experts. The most exciting part of my job is working with this diverse group of climate leaders on solutions and creative problem-solving so that we can catalyze swift climate action across Canada.

What topics are currently of particular importance to you that you would like to highlight from the CCLI?
I am passionate about change.

I participated in organizational change when the real estate developer I worked for designed and implemented a company-wide green building strategy. I accelerated change in the built environment when I helped design green building policies for local governments. And I saw what a transformational role the LEED green building rating system played during all these changes.
Today, the recommendations of the Taskforce on Climate-Related Financial Disclosures (TCFD) are playing a similar, transformative role that will help redirect capital flows to green and sustainable solutions. The framework set out by the TCFD helps companies organize their approach to addressing climate change so that they can have a holistic strategy that utilizes best practices. It provides a pathway for sustainability practitioners to identify the skills required and streamline their service offering. And TCFD disclosures send a market signal to investors so that they can more easily identify best-in-class opportunities that will deliver a positive, risk-adjusted long-term return.
At the same time, governments around the world are responding to the threats of climate change and are putting in place ambitious and urgent climate policies. The goal is to limit and even reverse carbon emissions so that we can hold the global average temperatures within the planetary 'guardrails' of well below 2 degrees Celsius, and ideally below 1.5 degrees Celsius, to avoid the most catastrophic effects of climate change. Canada has joined countries and companies around the world who are committing to reducing carbon emissions 50 percent by 2030 and to net-zero by 2050.
All this change means reciprocal changes in the way we do many things, including how we approach financial accounting or investment management, and in the way fiduciaries offer effective oversight and governance of organizations. At CCLI, we offer a private and confidential space for directors and other fiduciaries to get up-to-date on the latest developments in climate governance so that they can more effectively steer organizations towards resilient and sustainable strategies that are fit for purpose under future carbon scenarios.
As Mark Carney has said, achieving net-zero emissions will require a whole economy transition and is a chance to turn an existential risk into the greatest commercial opportunity of our time.