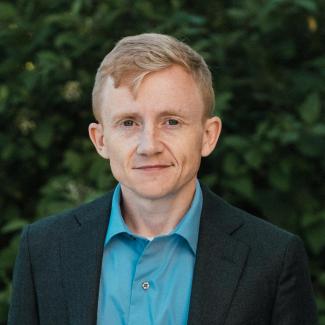 Dr. Camden Hutchison is an Assistant Professor at the Allard School of Law, where his research and teaching focus on corporate transactions, comparative corporate governance, and legal history. Dr. Hutchison earned his Ph.D. in history at the University of Wisconsin–Madison, where his dissertation examined the history of corporate regulation in the nineteenth- and twentieth-century United States. Before returning to graduate school, he practiced as a corporate associate at Kirkland & Ellis LLP, where he represented private equity firms and public corporations in connection with mergers, acquisitions, and other corporate transactions.
What attracted you to the Allard School of Law?
I was very impressed by the Faculty and the Dean's vision for the future of the law school. There's a real focus on growing the school's profile in the business law area, and it's exciting to be able to contribute to that.
How did you first become interested in corporate law and legal history?
My interest in history predates my interest in law. I majored in history as an undergraduate and seriously considered going on to pursue Ph.D. work. The practical realities of the academic job market encouraged me to choose law school instead, however. Ironically, after working as a corporate lawyer for a number of years, I ultimately decided to go back and get the history Ph.D. I'd always wanted. So it was a somewhat circuitous path to my current academic career, but there's nothing I regret about it. I truly believe my historical training enriches my legal research, and vice versa. There are relatively few scholars who study corporate law from a historical perspective, which makes my research perspective unique.
What research topics are currently of particular interest to you?
As an American in Canada, my research is leaning naturally--perhaps inevitably--in a comparative direction. My current research focuses on differences between American and Canadian corporate law federalism, particularly the fact that interjurisdictional competition has been weaker in Canada than in the United States. As a longer-term project, I hope to explore the historical shift of Canadian corporate law from its origins in English legislation to increasing American influence.
What advice would you give students from the Allard School of Law entering the legal profession?
Follow your passions, whatever they may be--you're far more likely to be happy and successful if you're doing something you find personally rewarding. Ultimately, this may or may not be practicing law. It's a bit of a cliché, but a law degree can really prepare you for a wide variety of careers, provided you're willing to take personal and professional risks. Don't just do what you think is expected--you have a lot more control over your life than it may sometimes seem.
Published Fall 2017