Janine Benedet
Dean pro tem and Professor
LL.B. (UBC), LL.M. (Michigan) S.J.D. (Michigan)
Profile
Janine Benedet joined the law school faculty in 2005 and currently serves as Dean pro tem. Her first stop after her L.L.B. graduation from UBC was a clerkship with fellow UBC alumnus Justice Frank Iacobucci at the Supreme Court of Canada. That was followed by graduate studies – leading to both an LL.M. and an S.J.D. – at the University of Michigan, where she also taught as a Visiting Faculty Fellow. She practiced labour law in Toronto from 1997 to 1999, and was a member of faculty at Osgoode Hall Law School from 1999-2005. She is a member of the British Columbia bar and engages in pro bono litigation in sexual violence cases.
Professor Benedet's areas of teaching expertise include criminal law, labour law, the law of sexual offences and legal ethics.  Her current research focuses on sexual violence against women, including prostitution, pornography and sexual assault.  She is currently researching the barriers to successful criminal justice system responses to sexual assault for women and girls across the lifespan, as well as the use of criminal law to target sex buying and pimping.  She is an Associate Editor of the Criminal Reports. 
In 2014, Professor Benedet received the CBA BC Equality and Diversity Award, for her work in advancing equality within BC and the legal profession.
Publications
Janine Benedet
"Absence of Motive in Sexual Assault Cases"
(2019) 55 C.R. (7th) 18-21

UBC Library Location
Isabel Grant & Janine Benedet
"Confronting the Sexual Assault of Teenage Girls: The Mistake of Age Defence in Canadian Sexual Assault"
Full text: (2019) 97:1 Can. Bar Rev. 1-42

UBC Library Location
Allard Research Commons
Janine Benedet
"Judicial Misconduct in the Sexual Assault Trial"
Full text: (2019) 52:1 U.B.C. L. Rev. 1-55
Janine Benedet
"Sentencing for Sexual Offences Against Children and Youth: Mandatory Minimums, Proportionality and Unintended Consequences"
Full text: (2019) 44:2 Queen's L.J. 284-314
Isabel Grant & Janine Benedet
"The "Statutory Rape" Myth: A Case Law Study of Sexual Assaults against Adolescent Girls"
Full text: (2019) 31:2 C.J.W.L. 266-292
Allard Research Commons
Isabel Grant & Janine Benedet
"Unreasonable Steps: Trying to Make Sense of R. v. Morrison"
Full text: (2019) 67:2 Crim. L.Q. 14-41

UBC Library Location
Janine Benedet
"R. v. Tweneboah-Koduah", Case Comment
(2018) 48 C.R. (7th) 288-296

UBC Library Location
Isabel Grant & Janine Benedet
"Capacity to Consent and Intoxicated Complainants in Sexual Assault Prosecutions"
(2017) 37 C.R. (7th) 375-383

UBC Library Location
Isabel Grant & Janine Benedet
"The Sexual Assault of Older Women: Criminal Justice Responses in Canada "
Full text: (2016) 62:1 McGill L.J. 41-78
Janine Benedet
"The Paper Tigress: Canadian Obscenity Law 20 Years after R v Butler
Full text: (2015) 93:1 Can. Bar Rev. 1-37

UBC Library Location
Janine Benedet
"Bedford: The Pimping Offence Should Have Been Upheld"
(2014) 7 C.R. (7th) 57-58

UBC Library Location
Janine Benedet & Isabel Grant
"Sexual Assault and the Meaning of Power and Authority for Women with Mental Disabilities"
Full text: (2014) 22:2 Fem. Legal Stud. 131-154
Janine Benedet
"Sexual Assault Cases at the Alberta Court of Appeal: The Roots of Ewanchuk and the Unfinished Revolution"
Full text: (2014) 52:1 Alta. L. Rev. 127-144

UBC Library Location
Janine Benedet
"Marital Rape, Polygamy, and Prostitution: Trading Sex Equality for Agency and Choice?"
Full text: (2013) 18:2 Rev. Const. Stud. 161-187

UBC Library Location
SSRN Abstract
Janine Benedet & Isabel Grant
"More Than an Empty Gesture: Enabling Women with Mental Disabilities to Testify on a Promise to Tell the Truth"
Full text: (2013) 25:1 C.J.W.L. 31-55

UBC Library Location
SSRN Paper
Janine Benedet et al.
"30th Anniversary of the Canadian Charter of Rights and Freedoms: The Impact on Criminal Justice"
(2012) 91 CR (6th) 71-131

UBC Library Location
Janine Benedet & Isabel Grant
"A Situational Approach to Incapacity and Mental Disability in Sexual Assault Law"
Full text: (2012) 43:1 Ottawa L. Rev. J. 1-27
Allard Research Commons
SSRN Paper
Janine Benedet & Isabel Grant
"Taking the Stand: Access to Justice for Witnesses with Mental Disabilities in Sexual Assault Cases"
Full text: (2012) 50 Osgoode Hall L.J. 1-45

UBC Library Location
Janine Benedet
"A Victim-Centered Evaluation of the Federal Sex offender Registry"
Full text: (2012) 37 Queen's L.J. 437-474

UBC Library Location
Janine Benedet
"J.A: Consent to Sexual Activity Cannot be Irrevocable"
(2011) 84 C.R. (6th) 35-37

UBC Library Location
SSRN Abstract
Janine Benedet
"The Age of Innocence: A Cautious Defense of Raising the Age of Consent in Canadian Sexual Assault Law"
Full text: (2010) 13:4 New Crim. L. Rev. 665-687
Allard Research Commons
SSRN Paper
Janine Benedet & Isabel Grant
"R. v. A. (J.): Confusing Unconsciousness with Autonomy"
(2010) 74 C.R. (6th) 80-85

UBC Library Location
SSRN Abstract
Janine Benedet
"The Sexual Assault of Intoxicated Women"
Full text: (2010) 22:2 C.J.W.L. 435-461

UBC Library Location
Allard Research Commons
SSRN Paper
Janine Benedet & Isabel Grant
"Sexual Assault of Women with Mental Disabilities: A Canadian Perspective"
in Clare McGlynn & Vanessa E. Munro, eds., Rethinking Rape Law: International and Comparative Perspectives
Abingdon: Routledge, 2010
pp. 322-334

UBC Library Location
Janine Benedet
"'Welcoming the World to Vancouver': Temporary Foreign Workers on the Canada Line Construction Project"
Full text: (2009-2010) 15:3 C.L.E.L.J. 541-554

UBC Library Location
SSRN Abstract
Janine Benedet
"Paradigms of Prostitution: Revisiting the Prostitution Reference"
in Kim Brooks, ed., Justice Bertha Wilson: One Woman's Difference
Vancouver: UBC Press, 2008
pp. 131-152

UBC Library Location
SSRN Abstract
Janine Benedet
"Probity, Prejudice and the Continuing Misuse of Sexual History Evidence"
(2009) 64 C.R. (6th) 72-73

UBC Library Location
Janine Benedet & Isabel Grant
"Hearing the Sexual Assault Complaints of Women with Mental Disabilities: Consent, Capacity, and Mistaken Belief"
Full text: (2007) 52:2 McGill L.J. 243-289

UBC Library Location
Allard Research Commons
SSRN Paper
Janine Benedet & Isabel Grant
"Hearing the Sexual Assault Complaints of Women with Mental Disabilities: Evidentiary and Procedural Issues"
Full text: (2007) 52:3 McGill L.J. 515-552

UBC Library Location
Allard Research Commons
SSRN Paper
Janine Benedet
"Pornography and Prostitution in Canada: The Dangers Ahead"
in David Guinn & Julie DiCaro, eds., Pornography: Driving the Demand in International Sex Trafficking
Los Angeles: Captive Daughters Media,, 2007
pp. 306-320
SSRN Abstract
Janine Benedet, Patricia Hughes & Kerry Rittich
"Equality in Employment"
in Labour Law Casebook Group, Labour and Employment Law: Cases, Materials and Commentary, 7th ed.
Toronto: Irwin Law, 2004
pp. 812-912

UBC Library Location
Janine Benedet
"Hierarchies of Harm in Canadian Criminal Law: The Marijuana Trilogy and the Forcible 'Correction' of Children"
(2004) 24 Sup. Ct. L. Rev. (2d) 217-241

UBC Library Location
Allard Research Commons
SSRN Paper
Janine Benedet
"Pornography as Sexual Harassment in Canada"
in Reva B. Siegel & Catharine A. MacKinnon, eds., Directions in Sexual Harassment Law
New Haven: Yale University Press, 2004
pp. 417-436

UBC Library Location
SSRN Abstract
Janine Benedet, Patricia Hughes & Kerry Rittich
"Statutory Regulation of Employment"
in Labour Law Casebook Group, Labour and Employment Law: Cases, Materials and Commentary, 7th ed.
Toronto: Irwin Law, 2004
pp. 750-826

UBC Library Location
Janine Benedet
"Children in Pornography after Sharpe"
Full text: (2002) 43:2 C. de D. 327-350

UBC Library Location
Janine Benedet
"Legal Rights in the Supreme Court of Canada in 2000: Seeing the 'Big Picture'"
(2001) 14 Sup. Ct. L. Rev. (2d) 97-109

UBC Library Location
Allard Research Commons
SSRN Paper
Janine Benedet
"Little Sisters Book and Art Emporium v. Minister of Justice: Sex Equality and the Attack on R. v. Butler©"
Full text: (2001) 39:1 Osgoode Hall L.J. 187-205

UBC Library Location
Allard Research Commons
SSRN Paper
Janine Benedet
"Same-Sex Sexual Harassment in Employment"
Full text: (2000) 26:1 Queen's L.J. 101-141

UBC Library Location
Janine Benedet
"On Indecency: R. V. Jacob"
(1998) 3:1 Can. Crim. L. Rev. 17-59

UBC Library Location
Janine Benedet
"Hostile Environment Sexual Harassment Claims and the Unwelcome Influence of Rape Law"
Full text: (1995) 3:1 Mich. J. Gender & L. 125-174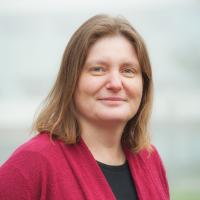 Organization Affiliations
Centre for Feminist Legal Studies
Dean's Office
Research Interests
Criminal law and criminal justice
Labour and employment law
Law, gender and sexuality
---