Estimating your Admissions GPA for the Allard Law JD Program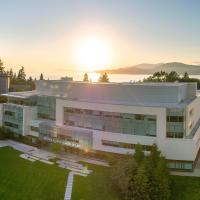 Nov 9, 2021
On this page:
---
One of the most frequently asked question by prospective JD students is how their Cumulative Grade Point Average or CGPA—sometimes simply referred to as GPA—is calculated for admissions. Not all of your course grades will be used to calculate your admissions CGPA and UBC uses a percentage CGPA out of 100, which may differ from your home institution.
In this post, we walk you through the process of calculating your admissions CGPA using your home institution's grading scale and how to convert your CGPA to a UBC percentage CGPA. Given the high number of applicants each year, Allard Law staff are unable to provide verification of CGPA calculations during the application process.
While your CGPA is an important consideration for admissions, it is important to remember that your LSAT score and personal statement are also factored into the admissions decisions. 
There is no minimum CPGA required to apply. In past years, successful applicants within the General Category have had an average UBC percentage CGPA of 83%—ranging from 76% to 90%—with LSAT scores ranging between 156 to 180. Your official CGPA calculation will be assessed and evaluated by the Admissions Office staff.
Everyone's path to law school is different and we encourage you to review our admissions eligibility and requirements and to contact our Admissions team if you need assistance applying.
Calculating your Cumulative GPA for non-UBC Students
Calculating your Cumulative GPA for UBC Students
For UBC students, you do not need to use the Excel calculator above as the Student Services Centre (SSC) has a built-in average calculator which can calculate your admissions CGPA.

Join one of Canada's leading law schools
Our diverse and innovative curriculum offers a first-rate legal education that balances traditional areas of practice with emerging fields of specialization. This, combined with a comprehensive experiential learning program and a supportive community of faculty, students and staff (including an on-site student well-being counsellor) makes the Allard School of Law a place to be inspired, follow your passions and make a difference in the community and beyond. 
---