Student Wellbeing Counsellor
Allard Hall has a full-time in-house Student Wellbeing Counsellor to look after law students' wellbeing needs.
We are currently hiring for a new Student Wellbeing Counsellor.
---
Assistant Dean, Students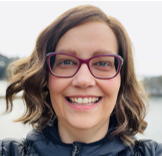 Kaila Mikkelsen, B.Sc., LL.B., LL.M.  
604.822.6350; mikkelsen@allard.ubc.ca
 
Kaila Mikkelsen is the Assistant Dean, Students at the law school. She spends her days imparting a sense of calm to law students. If you are experiencing personal or academic challenges which are impacting your ability to complete your school work, attend class, manage your financial responsibilities or generally attend to your day to day needs, please reach out to Kaila to explore the options, resources, and supports available to you at Allard Law. Kaila also processes requests for academic concessions and provides academic support to JD students. Kaila believes that every admitted student belongs at our law school, and can be successful here, and is committed to supporting students achieve their goals.
---
MANAGER, STUDENT EXPERIENCE
Barbara Wang is the Manager, Student Experience, at Allard Law. She strives to empower law students by creating an inclusive and safe environment for them to share their experiences. Barbara advises law students on experiential offerings, exchange offerings and joint legal education programs. She also works with the Centre for Accessibility to facilitate exam accommodations and provides back-up support to the Assistant Dean, Students, with respect to academic advising and concessions.